Lifelong Besties
My Obsession with the 'Jellycat' Brand
96 animals, foods, objects and creations ranging from sea creatures to rocket ships to chile peppers. What started as a desire for cuddly creatures has turned into (a bit of) a full-blown obsession. I started "officially" collecting Jellycats last summer after purchasing a vegetable on Amazon, and now I have almost 100 of them. So, let us dig into my top 15 favorite Jellycat stuffies. 
NOTE: Before I start, I would just like to make it known that this was extremely difficult and that I love all of my buddies equally. 
Coming in at #15, I have my mellow mallow hippo. This one instantly became one of my favorites when I discovered him on the shelves at Trudy's Hallmark (the store where I make most of my purchases) after I fell in love with how soft and squishy he is. "Chonky" (his nickname, given to him by my boyfriend) reminds me of a Squishmallow (a brand I also love very much) and is a go-to for me when I need something to hug or prop up my head. His cute simplistic design and comfortable material deserves a 10/10 rating from me.
At #14, I place my dinosaur, Douglas. With his mossy green color and burnt yellow spikes, Doug easily won over my heart. He is shaped in a way that is the most perfect, cutest rendition of a dinosaur, and he could not be softer. He has the softest fur a Jellycat can have which makes for a comfy buddy. When I do homework, I set him on my legs, kind of like having a small cat, which is good for company. I give him a 10/10 rating. (By now, you should know every review will be a 10/10.)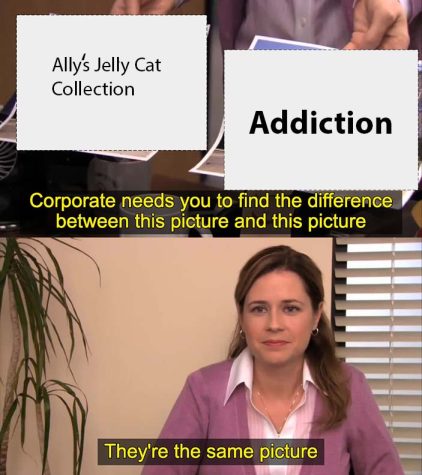 For #13, I rank my two little guys with the knitted hats. Although one is a penguin and the other is an avocado, I feel like they belong in the same family. You cannot have one without the other. I received my penguin, who has got the rosiest-colored beanie, as a Christmas gift from one of my best friends, Tristan. She has the most adorable orange nose and flippers. Her fur is quite soft and textured, which I think fits her design. The avocado and his little blue knitted hat is a game-changer. Whoever thought up "fruits with hats" was absolutely correct. He has got the softest fuzz and cutest little smile. This pair usually hangs out on my windowsill next to my plants. I give them a 10/10, obviously.
Standing at #12, I place my tiny frog. I was drawn to this frog in particular due to his color: a wonderful shade of sage green. He is one of the smaller ones, sitting at 9 inches, but he is adorable and fits in well with my other small plushees. Although he has all the features of a frog, he has been mistaken for a green teddy bear, which I thought was really funny. His fur is super squiggly and soft, which is a unique characteristic that I like. He is a little pocket friend great for traveling with or for hanging out in your room. Despite him being more on the expensive side for his size, he is definitely worth the price. This has to be a 10/10 from me.
Going strong with #11, I rank Blueberry, a Jellycat monster. His rich blue color (obviously similar to that of a blueberry's, very original name, I know) and weighted character make for the best cuddle friend. Personally, his crazy hair is my most-loved feature. Sometimes, I take little hair ties or butterfly clips and put them in his hair to make somes stylish hairstyles. I also dressed Blueberry up in some Build-A-Bear clothes which made me laugh. This guy, or any of his other friends, are definitely worth the purchase. I rate Blueberry a 10/10.
Finishing off the first third of our ratings and sitting at #10, we have another piece of fruit: watermelon. Its neon colors of pink and green create this lovely little food full of energy. It has these little brown legs that can dangle off the side of my desk and is filled with beans that give it a nice texture. The fur is also beyond soft and I love tossing him all over the place. The watermelon is also great for dodgeball… I give it a 10/10 easily.
At #9 I place Valentine, one of my recent acquisitions. I purchased her at the Hallmark store after school earlier this week as a late Valentine's Day and early birthday present to myself after her vibrant pink color stood out to me. Valentine is one of the original bunnies with the big floppy ears and triangle nose, which I love. She is super soft, with the same fur as Douglas, and has a little bit of weight to her. She is a classic, and I definitely recommend her or any of the other bunnies. They come in a wide variety of sizes, colors and even with accessories, such as blankets, which allows for customization to find your favorite one. A 10/10 from me for Valentine.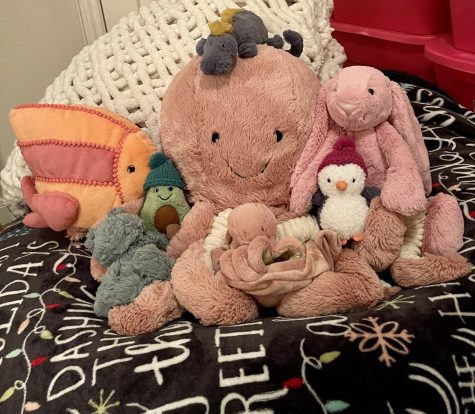 As we near the halfway point, I rank my blue and gray whale shark, Pebbles, #8. The. Softest. Sea. Animal. Ever. I do not know what his fur is made of or how they crafted him, but this little guy feels like touching a cloud. I am a huge fan of all the ocean creature Jellycats, and I have ones from whales to sharks to octopi to multicolored fish. I purchased Pebbles at Nordstrom (they have a great selection to choose from, which is nice), and I thought his pricing was reasonable (for a Jellycat, that is). I give him a 10/10. 
Coming in at #7, I place my tropical fish, Neo. He has been at the top of my list for so long, so when I saw him at Nordstrom (along with Pebbles and another blue whale), I just had to get him. Sure, I may have spent a little much on them, but it was so worth it. His orange and red shades complement the little cotton balls on his body. Neo is definitely one of my more detailed, "exquisite," Jellycats and is certainly unique. Per usual, he deserves a 10/10. 
At #6, I rank my second largest Jellycat: Nessa the Loch Ness Monster. When I received her as a gift, I was beyond shocked and excited. I did not even know Jellycat made stuffed animals like Nessa. Her long, swooping body and mossy green exterior match her character really well. I also received a little cute cat collar with a bow tie and bell to put around Nessa's neck, which makes her ten times cuter. Nessa, and many others, are so well-crafted, and leave me satisfied and happy after each purchase. Absolutely worth it, 10/10.
As we hit the top five, I am placing my variety of fruits and vegetables at #5. Now you may think this is cheating, but even though each food item was purchased individually, they all deserve recognition in their own category. The first Jellycat food item I purchased was my eggplant, Nate (who is not named after Jacob Elordi's character from the hit show "Euphoria," by the way), last summer after I saw him on Amazon. Since then, I have collected numerous fruits and veggies, from cantaloupe to peas to broccoli and an orange. I usually organize them in the Jellycat basket I received as a gift, but sometimes they are just scattered across my bed. I probably get the most comments from others about the food, just because it is kind of unusual, but I find it amusing. This is easily a 10/10.
Next up, I have my snow dragon, Elsa, as my #4 favorite. She is yet another purchase from the kids' section at Nordstrom, and when I first spotted her I was so excited. Her, along with the other dragons, were always on my wishlist or shopping cart on the Jellycat website. However, more times than not the words "Out of Stock" were listed in gray next to their pictures. So when I saw her white fur and glittering wings on the top shelf, I knew I had to get her. I agree, the price was a bit much, but it was a sacrifice I was willing to make for Elsa. Her fur is incredibly soft and the detail on her wings, horns and face is phenomenal. If Jellycat can do one thing, it is creating well-made products. Clearly a 10/10 from me. 
For my third spot, I have to place Hugh, my green whale. Hugh is the fuzziest whale you will ever see. His seafoam, dark green color and corduroy texture make me so happy. When I first started surfing the Jellycat website, this whale was among the first few that I fell in love with at first sight. I received this guy as a gift for my birthday and could not even describe how ecstatic I was. He is also quite large and makes for a great neck pillow or cuddle buddy. Also, the fur on his belly is the best touch ever and reminds me a lot of my dog's fur, which is comforting. This is definitely one of the more unique animals I have, and for that, Hugh deserves a 10/10.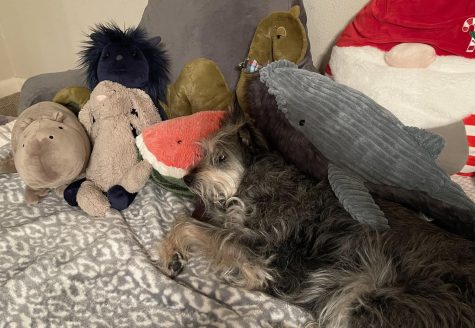 For my #2 spot, I place my largest, most fluffiest animal with eight tentacles and the biggest eyes and smile ever: Harold the octopus. This guy is literally named "Extra Large" on the Jellycat website. Harold is literally the size of my dog, Haylie, which I find hilarious. I was beyond lucky to have received him as a gift for my birthday, and he is perfect pillow material. Additionally, I received the tiny version of Harold with a little blanket, and his name is Oliver, or Olly for short. The two make the cutest father and son duo and are both incredibly soft and snuggly. All of the tentacles are weighted and crafted in nice spirals which add to the overall feel of Harold. I think I have a bias toward him because he is gigantic, truthfully. I love my two octopi so much, and they deserve a 10/10. 
Finally, in my first spot, I place my first ever Jellycat: bunny. He is (quite obviously) a tan, scruffy bunny of the classic Jellycat "make" with big floppy ears and a white tuft of fur for a tail. When I was younger, maybe five or six years ago, I had been looking around in a hospital gift shop with my grandma while my grandpa was being treated upstairs. I was drawn to the shelves filled with this particular tan bunny, and when I reached out to touch one, I was met with quite possibly the softest fur I'd ever touched. I wanted that bunny so bad. A week or so later, I received him as a gift from my grandma, and he has been with me ever since. I know he is filled with the most love ever, and he sleeps by my side every night. Bunny deserves an 11/10. 
And with that final rating, my review has come to an end. As crazy as I sound, I consider this to be one of my hobbies, just like writing or training on the mats. I certainly recommend checking out the Jellycat website and looking to find a friend of your own. In addition to buying from the website, you can purchase this brand at a variety of stores, such as Nordstrom or Trudy's Hallmark, or online through Amazon. These are my go-to stores, but boutiques or strip malls also (sometimes) have Jellycats available to purchase. A good rule of thumb is to always check the kids' section. 
As you have seen, I have a wide variety of animals, foods and household objects, but there are thousands more to check out. Jellycat even offers personalized gifts and everyday items such as coin purses and backpacks. The possibilities are truly endless, so I highly advise checking it out for yourself.