Basketball Season Comes to an End
Varsity Members Reflect on Their Performance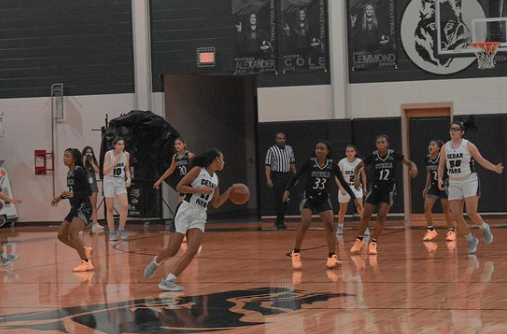 Both the girls and the boys have achievements to be proud of this season. The girl's varsity team is topping all other competition, including Georgetown and Glenn, with a win-loss ratio of 21-1 in their overall season. 
The boys, although with a win-loss ratio of 3-10 in the district leagues, scored some well-needed victories against schools like Vandegrift and Marble Falls. And, according to senior shooting guard Parker Forbes, there was also definite progress made for each team member.
"Despite our sub par performance this year, I'm extremely proud to be a part of this team," Forbes said. "We knew we had to work extra hard in practice and in the weight room to be better than our opponents." 
As the year progressed, it became apparent that the boys were improving, scoring some wins against the schools mentioned earlier. Meanwhile, the girls are leading with victory after victory against Rouse, Georgetown and Liberty Hill – the reason that the girl's varsity team is ranked top 20 in Texas, according to MaxPreps.
"The work ethic stayed the same this year," sophomore point guard Gisella Maul said. "I'm proud of my team for always sticking and working together. We wouldn't be able to score so well against other schools if not for the work we all put into it. Most of the credit goes to their efforts and to Coach Ott for always keeping us in top shape."
Despite several games being canceled because of COVID, the girl's basketball team still had favorite moments from the games they did have.
"My favorite game from this year would be the second time we played Georgetown," junior shooting guard Megan Woods said. "We defeated them to win the district championship."
 The girls finished the regular season as district champions and will continue their season in the playoffs. The girls are heading to the regional semifinals tomorrow against Corpus Christi Veterans Memorial. The boys team fell short of the playoffs, however, now that improvement has been seen in the team, Forbes has a positive outlook on the future. 
"We all worked extremely hard to lay a solid foundation and I have no doubt they will be a great team next year," Forbes said. "I'm excited to see what the future holds, especially with so many returning varsity members."