Freshmen Takeover
Tyler Kukla, Kei Tsujii Both Make the Varsity Soccer Team During First Year in High School
The varsity soccer team will look a bit different this season, as two freshmen made the team and both will see significant playing time. As of right now, Striker/Midfielder Kei Tsujii is s starter, while striker Tyler Kukla comes off the bench.
Tyler Kukla is currently on three separate teams that require practices everyday and games once a week. He's played competitively for 10 straight years. Kukla said it felt really good to make the school varsity squad and said it means a lot to him.
"I have a lot of respect for everyone on the team, so it's really cool to get to play with them," Kukla said.
Striker/Midfielder Kei Tsujii has been playing soccer for over 10 years. He said making varsity means his hard work has paid off.
"I got to this point by trying my best to fit myself into the team and committing a lot of time and effort into soccer," Tsujii said.
Kukla stays busy with soccer, which is a sport that takes a lot of athletic ability and energy to play at a high level.
"In all my practices and games, I work hard and give all of my effort," Kukla said. "My competitive attitude pushes me through the season."
In order to stay on the varsity squad throughout his high school tenure, Tsujii said he should avoid complacency and always work hard.
"I have to make sure that I'm never content with what I'm doing and do my best to keep improving," Tsujii said.
Making the varsity squad as a freshman is an accomplishment in and of itself, but Kukla wants to maintain success and help the team win in any way he can.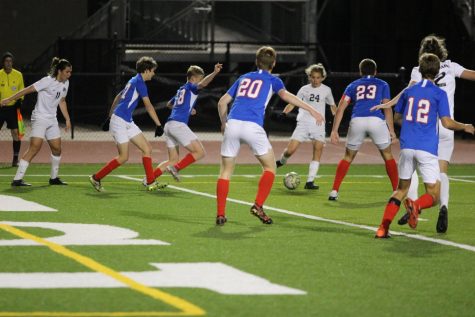 "I need to show up to every practice, film [study], weight room and game and give it 110 percent," Kukla said. "Everyday I'm going to need to work to get better, faster, and stronger. I'm going to need to keep a positive attitude through the season."
Tsujii said that a big reason for his accomplishments is doing his best and learning what is best for the team.
"I hope to score as many goals as I can to help the team and to win as many games as we can this year," Tsujii said.
Kukla strives to get faster, play more, and score more goals this upcoming season.
"Our team goal is to grow as a team and win a state championship," Kukla said. "We will need to stay positive, work hard, listen to the coach, and give a big team effort."