From CP to the SEC
Senior Soccer Player to Compete at Next Level
In the fall, seniors Riley Petcosky and Dominic Toledo will be added to the list of student-athletes that have signed to play a sport at the Division 1 level. They will be joining a list including Spencer Drango, now playing in the NFL for the San Diego Chargers, and the most recent being Mason Brooks, a freshman at Western Kentucky University.
Petcosky, who has signed to play at The University of Auburn, said that she started playing soccer at the age of five because her older sisters had inspired her to do so. 13 years later, she said that her sisters and the rest of her family have become the driving force for her as she moves on to the next level.
"At first, it was very overwhelming and surreal when all of these big schools started noticing me," Petcosky said. "I've been working on this almost my entire life, and I realized at that point all of my work had all started to pay off."
The University of Auburn is well known for their other athletic teams, such as their football team that annually competes for the SEC championship and the men's basketball team that made the Final Four this year. As for their women's soccer team, it ranks 34 out of 333 teams in the D1 level right now, after the Women's Soccer Championship.
"When Auburn came around, I was ecstatic after touring the campus and then signing," Petcosky said. "It just made me realize how much closer of my goals and dreams really work and I know that Auburn will get me there."
She said that her soccer goals include either making the national team or going on to play professional soccer.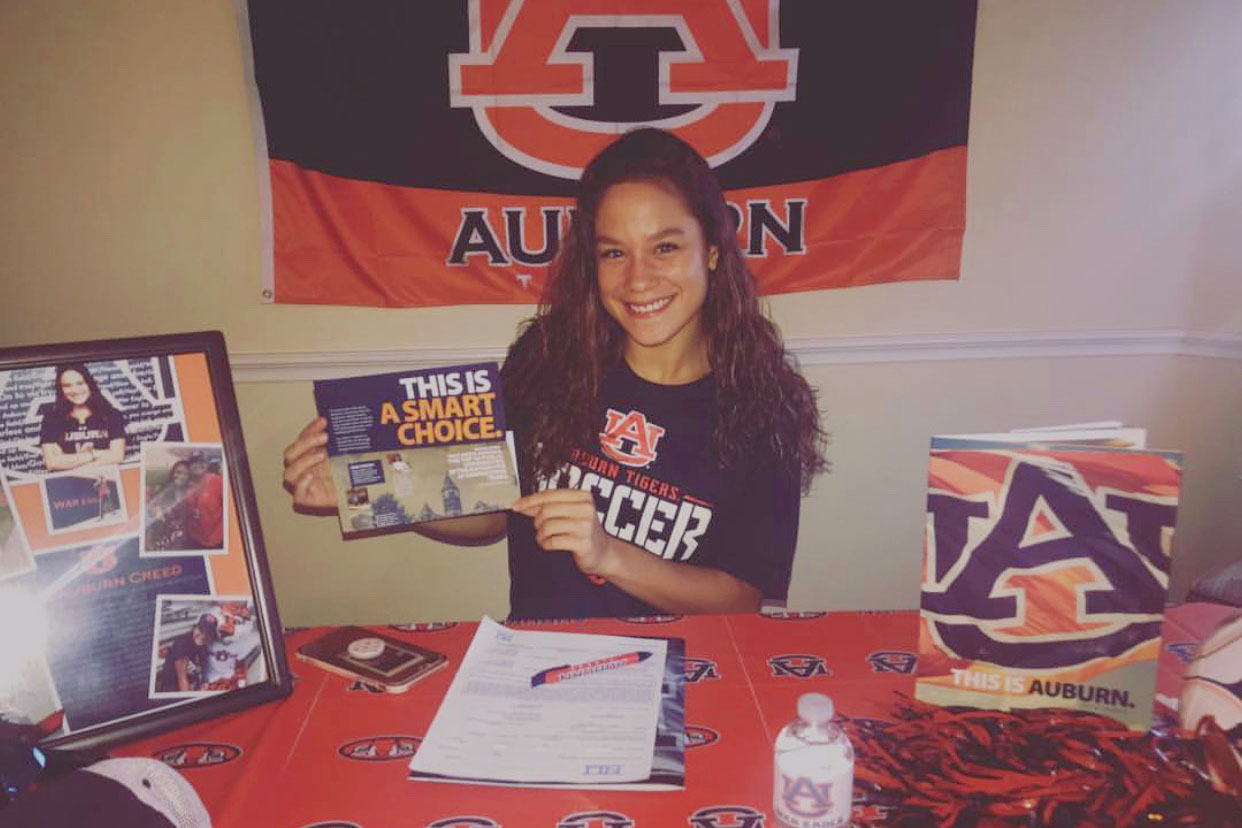 "It's something I've always wanted as a child and I am still working to achieve that dream," Petcosky said.

Petcosky isn't going to college just to play soccer though – she's said that her academics is still a large factor. Off of the field, she will be studying kinesiology in hopes of becoming a personal trainer or physical therapist.
"I chose this major to study because working out is something I love to do and helping people achieve their body and fitness goals is something I'd love to be involved in," Petcosky said.
According to Petcosky, she has always been interested in fitness and staying fit, and she proved it by joining the track team this year.
"Track has helped me this year because first off, you need to have the grades to be eligible to run, so it has made me more motivated to keep up my grades so I'm able to compete," Petcosky said. "It's also just made me physically and mentally stronger overall, with all of our hard morning practices and intense meets."

According to Petcosky, she wasn't originally planning on running track in college, but now it's something she has been considering lately due to an increase in performance.
"Staying fit is one of my personal, day-to-day goals," Petcosky said. "With playing soccer first and running track on the side, it's definitely a goal I'm able to keep up with for myself. I know with playing in the super competitive SEC, my athleticism is something that won't falter for a while."