Sophomore Success
Basketball Starter Discusses Making the Varsity Team as an Underclassman
It is a rare occasion to see a sophomore tear it up as a starter on a varsity sports team, but look no further than Jacob Swoboda. Swoboda made the leap from a freshman starter last season, a season in which he averaged 16.8 points per game, to a varsity starter as a sophomore this year.
"A lot of hard work and hours are necessary to get to this point," Swoboda said. "You have to make a lot of sacrifices if you want to be able to be successful at a school with a lot of amazing talent."
Swoboda has been playing basketball since the age of five, all-year round, and according to him, non-stop. The school basketball regular season runs November – February.
Swoboda said finding out that he would not only be on varsity this season, but a starting forward, was a great experience for him.
"[It was] definitely a big jump finding out I would be on varsity," Swoboda said. "But with the support of my coaches and teammates, it made the transition so much easier."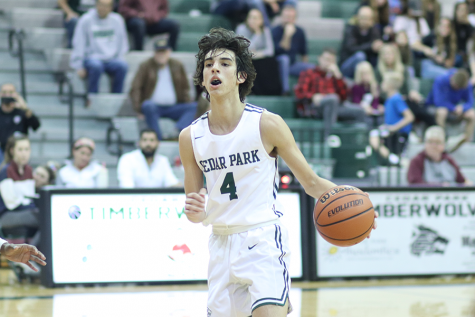 The freshman team runs the same type of offensive scheme as the varsity team does, Swoboda said, however, the plays become more elaborate and complex at this level.
"I have adjusted to varsity basketball by now," Swoboda said. "It is a lot different because the speed and strength is much greater, but over time, you adapt to the way the game is played. I have to make sure to stay focused throughout practices and games."
Not only did Swoboda have to adjust to the way this team plays, but he has to make sure to not get confused about which team he's playing on because he also plays in a select basketball league that runs March-July. In his select league, the players are separated by age and grade level.
"School ball is a lot different than select basketball and they both have their individual benefits," Swoboda said. "I enjoy playing on both because they each present new challenges you have to work hard at. For school [basket]ball, there are a lot of upperclassmen who have more years of varsity experience, which presents different challenges."
In order to maintain his current status as a varsity starter, Swoboda said he has to make sure to work hard every day.
"Consistency is very important to play on varsity and you have to be focused throughout the season," Swoboda said. "My goal for this season is to keep on winning and hopefully make a deep run in the playoffs. I think we have a great chance this year and if we keep on working hard we can do great things."
The team currently sits at 23-5 and 8-1 in district play on the season. Last year, the Timberwolves made it to the third round of the playoffs where they fell to Manor. The team hopes to go even farther this season
"We have played well all year and if we keep on playing hard for each other I think we can make it very far," Swoboda said.