Today's Special Pep Rally Schedule, Homecoming Details
School will be on an adjusted pep rally schedule today as Cedar Park celebrates Homecoming 2018.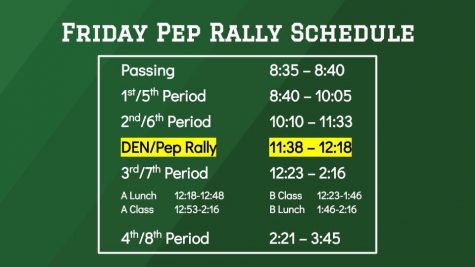 Just as the last pep rally, students can expect an activity similar to the AP Egg Down, a performance by cheer and the Celebs, and a hype video. Juniors and sophomores will be dismissed for the pep rally at 11:30 a.m. and seniors and freshmen at 11:33 a.m.
Beyond the pep rally, Homecoming King and Queen are set to be announced tonight at the football game just before kickoff.
Stay up to date with live game updates on our sports Twitter, @CPHS_Sports as the Timberwolves (2-2) take on the Raiders (2-2). This will be Cedar Park's first district game of the year. Jalen Gomez and Noah Torr will be live at halftime for a report and analysis.
Then on Saturday night, Student Council will be sponsoring the annual homecoming dance at CPHS. Tickets can be purchased at the door for $20.