Why Not Us
Varsity Football Advances to Week Two of Playoffs
The clock stands still at 0:00 as varsity football faces off in sudden death. The Jaguars and Timberwolves score one touchdown after the next in overtime, until Johnson fumbles the ball and Cedar Park recovers. Game over.
Varsity football won against Johnson High School Nov. 12 at the bi-district championship game in Buda with a score of 42-36. They will face off at the area competition against Angleton High School in Waller Friday night at 7 p.m.
"Winning felt really good because no one really thought we were going to win and then we went into overtime and won it," junior running back Tyree Nicholson said. "Getting the first touchdown felt great because it really got the energy up and got everyone going."
The T-Wolves, with a record of 5-5, came in as an underdog to Johnson's 8-2 record.
"As a team, it felt really great just to come out with the win when no one was expecting it," senior wide receiver Cody Marshall said. "We came from behind and we got the dub. Going into the game, we knew we were the better team just because records don't show the whole story. We went in there with confidence."
The game was close, with Cedar Park leading most of the game. However, Johnson scored a touchdown in the final quarter putting the T-Wolves behind 29-21.
"On our last drive of the fourth quarter we were down by eight," Marshall said. "I ended up scoring the touchdown, but it was just very stressful in overtime because if we didn't score, we lost."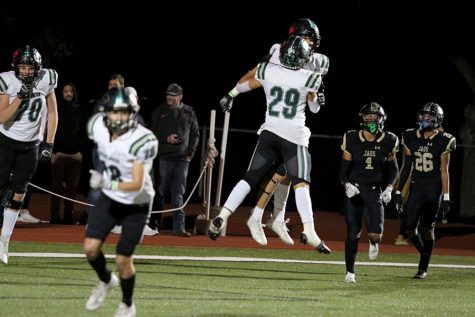 The game went into double overtime and ended when the Jaguars fumbled the ball.
"We just kept our heads high and kept strong and once we got the ball back we had to strike again," senior running back Kevin Adams said. "My two touchdowns felt pretty good, especially my overtime touchdown where we snatched the lead and having their fumble felt pretty good."
By winning this game, varsity advanced to the next round of playoffs.
"We are preparing by practicing real hard, running a lot in practice and watching a lot of film," Adams said. "We are making sure everyone is coming back healthy."
Angleton High School, which is located south of Houston, is coming off a 34-18 win over Friendswood in the bi-district round of playoffs. As for the T-Wolves, Marshall said they are ready for the Wildcats. 
"We practice hard all year around and I think that's what separates us from these other teams," Marshall said. "They're not as disciplined as us or work as hard as us, so we have a great chance to go to the third round."