Senior Spotlight: Mallory Matthys
A passion for healthcare has been a persistent throughout senior Mallory Matthys' life. At an early age, she was exposed to the power of healthcare when her sister was born prematurely. She was born with meningitis and later developed pneumonia, which would cause her to stop breathing on multiple occasions.
"As a kid she was really sick and in and out of doctors offices and hospitals," Matthys said. "And for me, just seeing that medical field dynamic, made me want to go into the medical field and help people like they helped my family."  
Throughout her four years at Cedar Park, Matthys has taken a variety of classes that have pointed her towards the medical field, such as pharmacology, medical terminology, Health Science Technology one and two, as well as becoming involved with Future Health Professionals club (also known as HOSA), where she has served as an officer for the past two years. In addition to her current role as president of HOSA, Matthys serves as the co-president of the service organization Music Eunited, as well as being a member of a plethora of other honor societies.  
"
I want to give back what I've been given. I want to pay it forwards."
— Mallory Mathys
HST one and two have assisted Matthys in further defining her goals with the help of conventional classroom learning, hands on experience and shadowing. In the fall semester of HST two, students rotate through the hospital and were able to shadow the staff, and in the spring they become Certified Nursing Assistants and work in a local assisted living facility.
"Throughout my life I saw the medical field through the patient perspective, but in HOSA and HST I saw it through the healthcare professional aspect," Matthys said. "It made me fully realize that I wanted to go into the medical field. It cemented my plans, especially when we went to the hospitals and I could see how all the nurses worked. I really liked what they did and their patient interaction.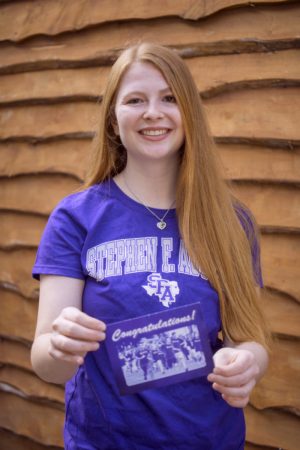 Next fall, Matthys plans to attend Stephen F. Austin State University to study nursing.
"I am so excited to be able to touch the lives of other people and brighten their days, especially when they're feeling not the greatest," Matthys said. "I want to give back what I've been given. I want to pay it forwards."