Conducting the Way to Success
Drum Major Reflects on Her Impact on the Band
Hang on for a minute...we're trying to find some more stories you might like.
A two-time state champion, Grand Nationals finalist and Texas Marching Classic 2016 champion. Through all of these accomplishments, senior drum major Kendyl Morris has helped lead the band through it all.
After being a member of the 2015 state champion band in her freshman season, Morris decided that she wanted to create a lasting impact on the band program.
"I wanted to be a drum major because I wanted to be the direct result of change," Morris said. "I learned during my freshman year, and I was there to experience band, but going into my sophomore year, I understood that there were things I wanted to be different and I knew how to implement those changes."
In her second year in the program, Morris was honored with the role of drum major, a position which only four members in the band are a part of. After Morris helped the band win the Texas Marching Classic during her first year in the position, she then helped lead them to fifth place at Bands of America Grand Nationals, a competition where bands from all over the world compete. Among all the accomplishments as a drum major, Morris said that it was her freshman year when band won State with the show "What's Opera Doc?" that created a lasting impact on her.
"
"I always knew my 'why' for being a drum major, and hanging on to those central beliefs and motivations helped me to push through the times when things weren't always easy.""
— Kendyl Morris
"My favorite band memory was probably winning State my freshman year mostly because I didn't understand the gravity of the situation," Morris said. "There was no intense pressure or politics to it, I was just happy."
She said that holding the drum major position has opened new doors for her and has allowed her to see things from a new perspective. Aside from the leadership aspect of the role, Morris said the position helped her build on her maturity and relationship skills.

"Being a drum major has allowed me to not only be a part of something bigger than myself, but it has also given me the opportunity to see how to make those moments happen," Morris said. "I learned how to truly care about others more than myself, because over time you begin to care for the group more than specific results. I honestly feel like being a drum major allowed me to mature faster and learn how to be a better person, simply by learning from experiences and direct relationships with other people."
After graduating, Morris is attending Texas A&M University in College Station, where she will be majoring in biochemistry. She said although she will be closing a door that she has held close to her heart, it's not the position she will miss the most, but rather the people.
"I'll miss the people more than anything else," Morris said. "Band gives you a second family, and like most families, you don't always get along, but you love each other despite the challenges."
For the future drum majors, Morris encourages them to understand the impact they will create and to always remember why they chose to lead the program throughout the next steps of its journey.
"I want the next drum majors, and even the drum majors after that, to understand that you have to know why you're doing what you're doing to enjoy it," Morris said. "I always knew my 'why' for being a drum major, and hanging on to those central beliefs and motivations helped me to push through the times when things weren't always easy."
About the Writer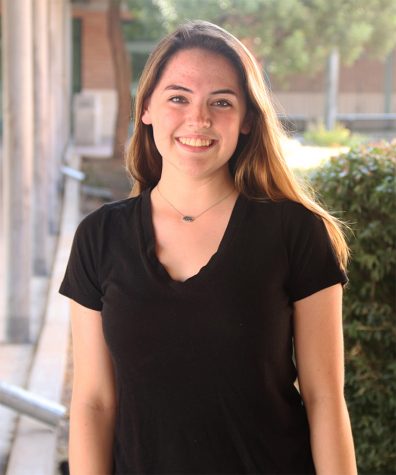 Addy Bates, Reporter
Addy Bates is a senior and second-year staff member. In addition to being a reporter for the Wolfpack, she also is apart of the Wolfcast Staff and is captain of the Cedar Park Bowling Team. She enjoys writing about sports and entertainment. As an avid sports fan, she enjoys attending Astros games and bowling in her free time. She plans on bowling in college and plans on majoring in journalism, sports journalism, or broadcast journalism.