Fashion Forward
Senior Speaks About Modeling Career, Future in Mass Communications
Multiple outfits shine against the poised lights illuminating the runway. Models line up to flaunt their outfits, and it becomes one student's time to shine. Strolling down the catwalk, senior Luke Johnson poses for the dozens of cameras flashing from the seats while he showcases his outfits with attitude.
Like any other teen, Johnson has a job- he works part-time at Randalls- and has a love for basketball. Yet, unlike many other students, his other part-time job is modeling. Johnson has been modeling for about four years, beginning his career as a freshman. He has participated in Mexico City Fashion Week and walked for boutiques such as Alexia Ulibarri, Benito Santos and even Nike.
"Every time a photographer tells me that they're just going to rapid-fire away and I can do [what] I want, I always just go with the flow of things," Johnson said. "I like having the freedom to do what I want, unlike most jobs around. Obviously, the bigger the brand, the more serious everything is, especially when you're in line backstage and are about to walk; that's where the tension gets high."
Mazza Models is the modeling agency that Johnson works for, and his agent is Devin Mazza. Johnson said he cared about how he dressed before he was asked to model, but wasn't actively trying to be a model. 
"A girl named Gray Harris [who] was in the grade above me [encouraged me to start modeling]," Johnson said. "We didn't even know each other, let alone talk to each other, but one day she just came up to me and said I have a 'model face' and got me in contact with her agent, who is now my agent. I was pretty nervous my first shoot, always worrying about how I looked, but when I saw the pictures afterwards, I realized that I just need to go with the flow and let the photographer work."
Johnson models a variety of clothing, yet his favorite is formal wear, consisting of suits, watches and slicked-back hair. One of Johnson's favorite formal outfits was for Benito Santos, when he was draped in pink robes and fancy dress shoes.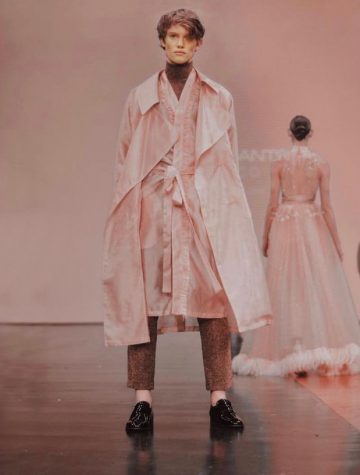 "[I like to look] like I'm about to go to my high-paying corporate job," Johnson said. "I don't like wearing my own clothes or something that's hard to move in because it's made weird, or [something that] I have to be very careful to not damage because it's so crazy expensive."
While doing photoshoots, Johnson must keep technical notes in his head in order to make the pictures turn out good. 
"I always have to be aware of shadows and light and almost play with it, so always in the back of my head I have to [remind myself to] keep my chin up, because most of the time, the light is coming from above so I don't want to cast a shadow on my face by looking down," Johnson said.
Modeling does come with certain difficulties, such as dealing with new sleep schedules and having to learn "movement terms," such as profile and three quarters. Johnson said he would occasionally look up YouTube videos on modeling terms because certain photographers expected him to know the terms. 
"In Mexico, I needed to wake up really early in the morning because the photo shoots were early and I had to Uber to far places," Johnson said. "It was my first time being away from home, and for the first time I needed to wake myself up. I'm a night owl and I had to adapt and go to bed around 8 p.m. to wake up at 4 a.m."
In addition to modeling, Johnson is also a second-year reporter for the Wolfcast. During his first year, he attended just about every football game and worked on the sidelines, and this year he is the head sports director and full-time anchor. 
"I had teachers that would regularly put the Wolfcast on in DEN, and after watching those and meeting people who were already in the program, I took the intro class and saw how much they care about each other and it only made me want to join more," Johnson said. "I've loved every second being in the program, and it's been great to get involved with something outside of conventional school. Going to the football games [is] definitely my favorite part [about being on the Wolfcast]."
In the future, Johnson is looking to major in mass communications at Texas Tech. According to Johnson, he wants to pursue this degree because both his dad and uncle have been anchors and sports casters, and after being exposed to that world in high school, he has been interested in that type of work.
"My favorite part about doing sports [casting] would be the building of relationships around the Cedar Park sports scene," Johnson said. "[For example], Coach Ott; I've known him since my freshman year and seeing his journey to the State championship was a crazy thing to watch. [Also], there's no one that's in the program that I can't talk to to get help." 
As for his modeling career, Johnson said he had fun, but plans to put all his focus into college. He has been in touch with the heads of Texas Tech's media and communications, including Associate Dean Todd Chambers, who introduced him to David Swofford, a 15-year news anchor in the Austin area.
"[Swofford] told me I can ask him anything I want," Johnson said. "They've welcomed me with open arms and it makes me feel that much better about being there because I've already made some connections. Modeling taught me that making connections with all kinds of different people will get you far in life. If you are confident and promote yourself, people will see that and want to see more of you resulting in greater opportunities."
About the Writer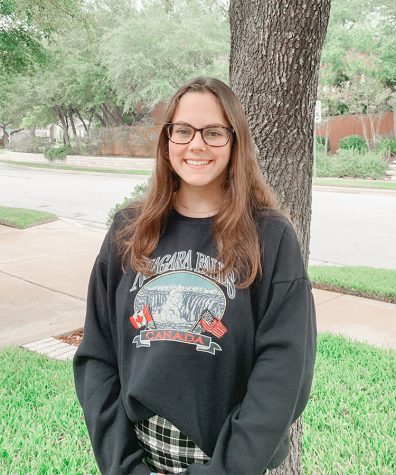 Ally JohnPress, Reporter
Ally JohnPress is a junior and second-year reporter. She is secretary for the National English Honor Society and enjoys writing her own fiction stories in her free time. She also trains Krav Maga, self-defense, out of school. Some of her favorite things include: Mint chocolate chip ice cream, walking her dog, Haylie, threatening to fire staff members (#firingsquad), watermelon Sour Patch Kids, playing Minecraft, jetskiing, hiding things in Hert's stocking and bracelet-making. She enjoys writing about conspiracy theories, but also features about ongoing school events. She wants to go to the University of Texas at Austin and study psychology or adventure to the West coast and discover a hidden love for something.