From Center Court to Center Stage
Basketball Captain Takes Talents to Theatre Arts
The last game of a high school sports career is something all athletes dread. For senior basketball captain, Callie Copeland, it represented the end of 14 years of early morning trainings, long car rides to tournaments and hundreds of teammates.
Copeland ended her final season as a Timberwolf averaging 35 percent from the field and 28 percent from behind the three-point line. She said, however, that she wants her legacy on the team to be much more than making shots.
"I tried my best this year to represent a true leader for the girls," Copeland said. "I wanted to be that teammate that you could talk to no matter what and someone who was always there to pick you up after a tough game."
Copeland said her final season was full of ups and downs, but it was one that she will remember forever. Her favorite memory was a unique occurrence at the Lady Wolves' home game against the Rouse Raiders.
"When we played Rouse at home, I had scored five threes, but then the lights in the gym suddenly went out, which has literally never happened during a game," Copeland said. "Our announcer went on the microphone and said 'Looks like Callie Copeland has shot the lights out.' It was such a cool moment that I'll never forget."
She also said that her toughest game was her last. In the 46-48 loss against Bryan-Rudder, Copeland said she still remembers the feeling of that last second, buzzer beater shot going in.
"I remember my stomach dropping and I let out an accidental 'Oh my God,'" Copeland said. "That bus ride home was one of the worst of my life. I just remember thinking it's over. It's really over. I thought about all that extra time I would have, like, how was I supposed to fill that space?"
That space would be filled by something very unexpected, Copeland said. After weeks of looking for activities to occupy her time, Copeland said that she found something perfect in one of her favorite school spots.
"I always eat lunch in the theatre room because so many of my friends are in that program," Copeland said. "Whenever Mrs. Mirabella put up an audition list outside the black box, I knew I had to go for it."
Copeland auditioned for the spring musical, "Willy Wonka Jr.," and got the role of Ms. Teavee and an Oompa Loompa.
"I was so happy to even get a role," Copeland said. "But to get such fun characters was more exciting than I could have hoped for. I was really thankful that Mrs. Mirabella had faith in me to play a small lead, even though I was never in her theatre classes."
Despite the long rehearsals and weekend workshops, Copeland said she enjoyed every second of being introduced to the theatre family.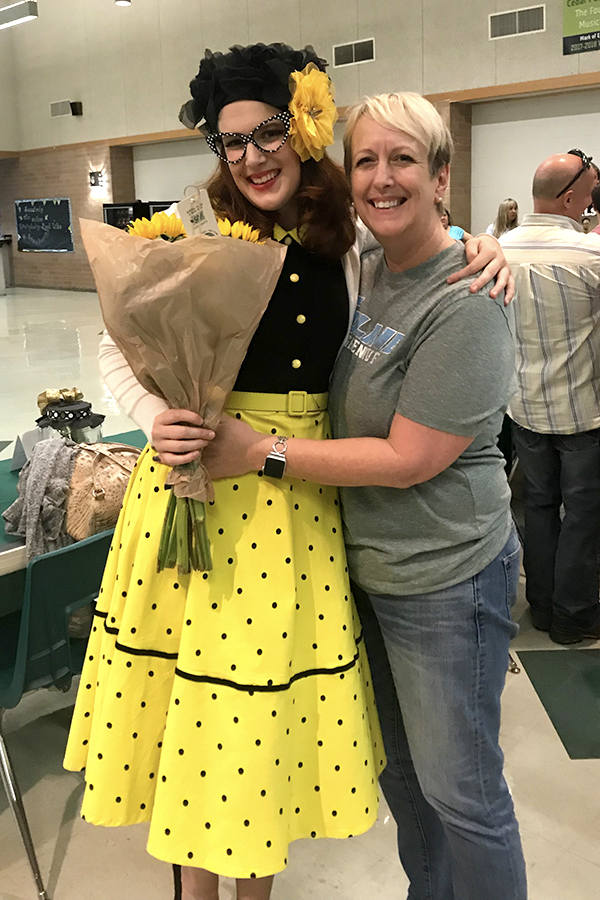 "I got to meet some really cool and different people from all areas of the school," Copeland said. "It was such a cool little community to be a part of and it was truly like being on a basketball team, but instead of shooting baskets, we were choreographing dances for Oompa Loompas."
While she missed her time in basketball, Copeland said that there was nothing cooler than being on stage singing and acting in front of her friends and family.
"It gave me the same feeling I had every time I walked into the gym for a big game," Copeland said. "Sure, there were some nerves, but we had put so much hard work into it that I knew everything would be okay."
Those experiences in the musical and the new friendships that were formed made the last few months of high school all the better, Copeland said.
"I couldn't have asked for a better way to end my senior year," Copeland said. "It was definitely different than anything I'd ever done, but it was so rewarding to see something you worked so hard on come to life. It gave me a whole new level of respect for the theatre department and all they do."
Copeland is attending the University of Texas at Austin in the fall to continue her education, and hopes she can bring some of her talents to campus.
"I'm probably not going to do theatre at UT, but I definitely want to get involved in something with public speaking or performing," Copeland said. "I really want to take the lessons I learned about hard work and being part of a team that I learned through both basketball and theatre."