Keeping up with Carver
Senior Creates Instagram Account to Spotlight Students
The saying "we rise by lifting others" is not uncommon around the school, all thanks to senior Carver McDonald and his Instagram account, @cphs_watch_carver, where he interviews students and athletes to highlight their successes. Carver started the account in 2020 and has since interviewed students from all programs in the school on a range of topics, from their achievements to their favorite Marvel character.
"It [interviewing] is like I am in a game," Carver said. "It just gets me into it. People are all different and I like all the people I talk to. I think it is important to figure out what I [have in common with them] because it makes it easier to talk to them."
The account made its debut during quarantine, after PTSA member Amy Wilson's student spotlight over Carver gained attention on the PTSA's Instagram account.
"His spotlight was a hit," Wilson said. "I then thought Carver needed to bring a smile to everyone's face during such a difficult time."
After Wilson's suggestion to start the account, Carver was excited to begin interviewing students.
"I think [I wanted to start the Instagram account] because I had a favorite Instragrammer that I had I followed and I wanted to be like them, like getting famous and then all of a sudden, it magically grows," Carver said.
After much cooperation between Wilson, Carver and his mother Angie McDonald, Carver began to interview students, starting with members of the school's baseball team.
"Together, we came up with the idea to use a more generic question for everyone, [asking] 'if you could be a superhero, who would you be and what would your superpower be?' Angie said. "The hashtag 'we rise by lifting others' was born when we were creating a Christmas gift T-shirt for Amy."
"
People are all different and I like all the people I talk to. I think it is important to figure out what I [have in common with them] because it makes it easier to talk to them."
— Carver McDonald
According to Angie, the relationship between Carver and Wilson is very special, even aside from Wilson's involvement with his account.
"Amy has been such a blessing to our family and Carver," Angie said. "They have the neatest friendship. They go on ice cream dates after most interviews and she picks him up other times just to hang out."
However, Carver's Instagram account is not the end of his involvement throughout the school. After a year of spotlighting students, broadcast teacher Anthony Garcia reached out to invite him to join the class for his junior year.
"I actually didn't know Carver very well," Garcia said. "But he kept coming across our Instagram page because he had decided to take up these interviews on his own and he was doing a really great job highlighting all these different things going on around our campus. When I realized that he had this obvious talent and interest in interviewing and being on camera, I decided to reach out to his mom and see if he would consider bringing that talent and energy to the Wolfcast."
Since joining the class, Carver has had several opportunities to gain experience in the journalism field, like interviewing KVUE reporter Tyler Feldman and the broadcast program's trip to New York City.
"The overall goal was just to take the broadcast students [to NYC] and expose them to the big leagues of broadcast journalism and the network media industry," Garcia said. "We got to do some more fun broadcast journalism type stuff like going to the 'Late Show' with Colbert as a studio audience member, and so getting to show the students what is fully possible, face- to-face, was a really great experience for all of us, including Carver and myself."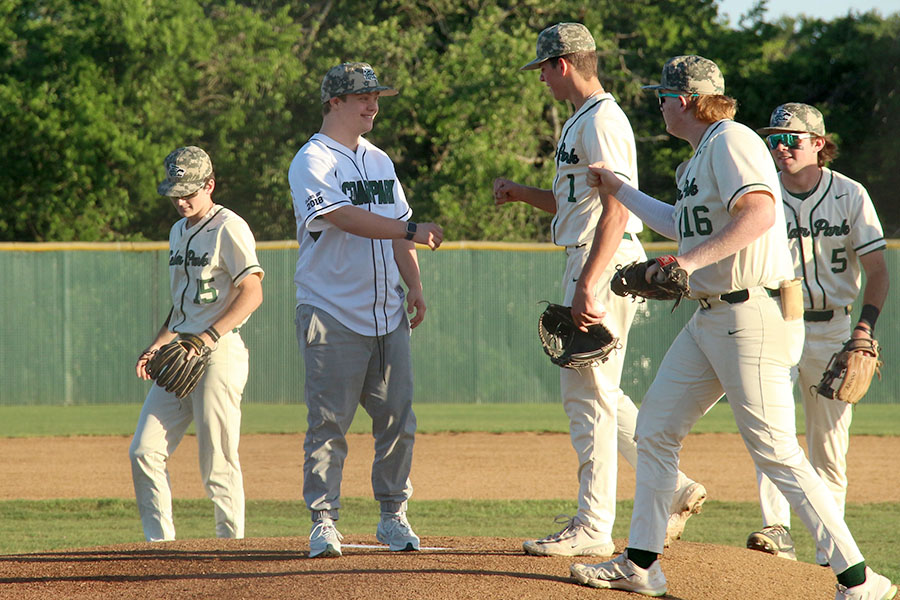 According to broadcast anchor Katie Whitmarsh, Carver has added a lot to the class.
"Carver adds a lot of heart to this program," Whitmarsh said. "He provides us with a new outlet to the people at CPHS from the people that he brings on the show for the T-wolf Spotlight segment. No matter how everyone is feeling, Carver is always able to walk in, uplift the mood and put a smile on everyone's face."
For Carver's teacher, Sandi Southerland-Chapa, his good attitude affects everyone in the school.
"I think for most of us, he shows that no matter what differences or abilities you have, you can make a positive impact on the community," Chapa said. "He just shows you to never give up, no matter what struggles you have, you just always persevere and keep going."
As for Wilson, watching Carver's Instagram grow throughout the years has been pure joy.
"He started off asking one question to the baseball team and has since joined the broadcast team, pitched a fundraiser raising money for his NYC trip, interviewed so many students, coaches and teachers at CPHS, a KVUE reporter and a player on the University of Texas National Champion volleyball team," Wilson said. "He is a big deal. Carver will forever be a legend at Cedar Park High School."