No Pain, No Gain
Senior Struggles Through Adversity for Her Love of Music
Marimba. Swimming. Piano.
These are just three of the hobbies that have taken up the first 18 years of senior Emily Pumphret's life. She said she has found her place in music by joining the band, as she loves to create music and perform. However, for Pumphret, being in band goes back a lot farther and means a lot more than just checking a box on the freshman course selection sheet in the CPMS cafeteria.
In the spring of 2015, Pumphret sat in front of a course selection sheet, debating on which freshman math to take, and which level of biology to enroll in. Selecting marching band took her back, she said, to old memories of her playing piano when she was little, and she was reminded of how much she loved music in itself.
Pumphret has been playing piano since she was four years old. She took lessons and excelled in her piano playing over three years, until she fell in love with swimming and decided to quit piano in order to pursue the sport instead.
Pumphret said that as soon as she stepped onto the diving board, she felt at home. She swam, ran and biked countless hours as a triathlete to get closer to her dreams of going to the Olympics and swimming on the USA national swim team.
"Swimming was definitely something that I loved to do," Pumphret said. "Every time I would step into the water, this sense of calm would come over me and all I would have to focus on was my breath and my swimming."
Everyone could say that all good things come to an end, as they did for Pumphret and her swimming career. Since she started swimming a lot at a young age, her shoulders and rotator cuffs were damaged through overuse.
"The doctors told me that swimming as much as I did at an early age while growing caused my back to grow in a way that it wasn't supposed to," Pumphret said. "The doctors recommended that I quit swimming for the sake of my physical health, so I did."
Pumphret was told that if she kept doing the things she was doing in swimming, and later, in band, these pains would never go away. While that possibility crossed through Pumphret's mind, she kept fighting.
After a lot of hard work, Pumphret decided to strictly pursue band, as she proceeded to make the marimba line for the marching band as a freshman. Her love for music kept her going. She said that the hard times, along with the pain, came back around during her first year of marching band. Headaches would start from rehearsing and standing for long periods of time. Noise triggered different ringing sounds in her head and she didn't know what to do, because the pain she had endured from swimming had come back once again.
"I pushed through the rest of marching season my freshman year on a very tight string," Pumphret said. "I didn't want to quit on the rest of the marimba line because I knew that they needed me to come through and perform as best as I could every single day until the last note of our show at Lonestar."
"
When I'm playing marimba, all of the pain goes away because I'm so passionate about the activity and the music that I'm performing.
— Emily Pumphret (12)
Once her first marching season concluded, everything seemed to go downhill. Pumphret missed a lot of school due to her nerve damage and head sickness. At a region band audition in the fall, Pumphret actually passed out due to one of these headaches. Three weeks into the spring semester of the 2015-16 school year, Pumphret was admitted to Dell Children's Hospital for a week.
"They said that because of the swimming injury, the pressure that I was putting on my body was causing nerve damage in my neck," Pumphret said. "They recommended that I quit, because if I kept doing what I was doing, the pain would just get worse and worse, to a point where I would have permanent damage."
Pumphret kept on practicing and fighting through the pain, because she said that no level of pain could keep her from doing what she loved most, which was playing and performing on the marimba line.
"When I'm playing marimba, all of the pain goes away because I'm so passionate about the activity and the music that I'm performing," Pumphret said. "I've had these dreams of being in Drum Corps and playing incredible music with amazing people, and that made me realize that I couldn't give up that dream for a little bit of pain. Everyone in the activity deals with pain and they don't give up, so why should I?"
After Pumphret missed several days of school and had trouble getting back into the swing of things, there were some misconceptions about the way that she viewed band. Most people could say that band is a "social sport," and that the social aspect of being in band is the best part.
"Some people viewed me as the girl who couldn't go to school because of a headache," Pumphret said. "Others thought that I didn't care about band, or that I was only in it to get my P.E. credit or fine arts credit to graduate. That gave me a reason to always perform well and prove them wrong."
In February of her freshman year, the Young Artists contest came around. Young Artists is a competition where band students perform solos of their choice for judges. The judges give them a score based on their performance, and if they perform well enough, they have a chance to move to semi-finals, and later, finals.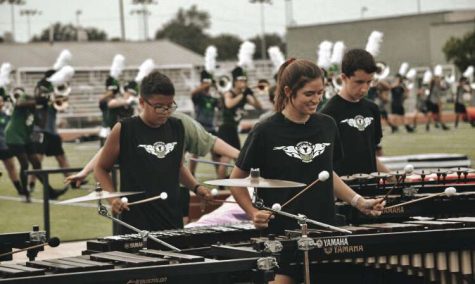 "After dealing with all of the pain, having everyone think [that I was not] as good or as dedicated as they thought didn't sit too well with me," Pumphret said. "At Young Artists, I received the highest score ever recorded, which was a 98 out of 100, and advanced to semi-finals. After that, everyone realized that I do care about this activity and I truly love the music that I perform."
Fast forward three years. Pumphret said that she is now dealing with "senioritis," as in six months, she will be at the University of North Texas on a Music Education scholarship. She said that while the pain is still evident in her everyday life, it has not stopped her from accomplishing her goals. The question of long-term pain and damage is within Pumphret's mind but she still plans to march Drum Corps in the coming years with the Santa Clara Vanguard.
As one of the top performers in the band, Pumphret said that her dedication and practice habits through her pain have gotten much better since she joined.
"After being in the marching band and just the band in general for four years, I realized that going through the pain was worth it," Pumphret said. "Being in the band program at Cedar Park is truly life-changing."