Not So Strange and Unusual
Senior Shares Passion for Taxidermy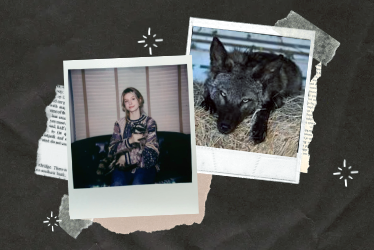 From an avid anti-taxidermist to starting a successful career in it, senior Jessica Jones didn't expect a bunny pelt from the Yellowstone National Park gift shop to be the discovery point of her love for the art.
Since she was 12, Jones has been learning the art of taxidermy, starting off with only owning various pelts to now running her own small business. Always having an interest in art and a love for animals, she said it wasn't hard for her to get her start. She mainly uses her social media platforms, under the name of Cr1tt3rz Curios to sell her work.
"For Christmas one year, my grandma got me a fox pelt," Jones said. "And eventually that generated to three bunny pelts, a fox pelt and then a skunk pelt. At first, it was just all pelts, then when I was around 12, I went on eBay and I bought a mounted squirrel. Then the collection grew to over $10,000 in mounts that I just accumulated over time."
Taxidermy is the art of preparing, stuffing and mounting the skins of animals with a lifelike effect. It takes Jones about a week to fully finish a project. After receiving a pelt, Jones works from the body to face details, hand sewing and sculpting features to create a realistic feel to her pieces. According to Jones, it's these specifics that make the process so long, but planning out times for completing certain tasks helps her make the best out of the usual six hours she spends on these important features. Starting in November of 2021, Jones looked towards videos of other taxidermists working and started attending seminars hosted by these more experienced artists. She was also never afraid to personally ask other artists for specific tips based on their experiences. Completing her works in the proximity of her own desk and eventually introducing her parents to the foreign idea of working with these animals, aids her in the process of creating a successful business out of her art, according to Jones.
As a way to quickly connect to customers, Jones said selling online has been the most helpful to her business and is the way she has been making around $10,000 a year off of her art. She has even had her customers drive four hours just to purchase her pieces.
"I'll just post something to r/taxidermy [on reddit] and they're sold in like 20 minutes," Jones said. "Some of them, I'll sell locally and I'll have people literally drive out to pick them up, like hours to pick them up. I make them for commissions, so I sell them and then I buy new stuff [with the profit] and then I'll make a new one and I'll sell it and then make a new one, it's really just an endless cycle."
Always having an affinity for art, Jones found taxidermy to be similar to the traditional work she was already doing. Jones is involved in art classes at school and has always kept up an artistic hobby, which has always proven as helpful when working with these animals, according to Jones.
"
It was an animal at some point, it lived a whole life and now it's here and we're using all of these artistic fields- sculpture, drawing, painting- to bring it back to life in a way, and doing it very artistically. People don't realize how artistic it is."
— Jessica Jones
"I always draw animals and stuff," Jones said. "I think to do taxidermy it's really really important to have a solid grasp on anatomy and being able to draw it out because if you can draw it out anatomically correct and proportional, then you're most likely going to be able to get better mounts because you know where everything is supposed to go already. You know that it should be symmetrical from this angle or that angle and how it should look from every angle, so it's definitely important to have some sort of artistic ability if you're going to go into it. You definitely don't have to, it's possible [to do it without artistic abilities], but it's good to have some drawing experience because it's nice to have a grasp on what things are supposed to look like."
According to Jones, her most recent mount, a black coyote, has been one of the biggest projects she has worked on. It had taken her a few months to be able to begin to work on the piece. After posting her progress on her social media accounts, Jones already had customers calling dibs on the piece.
"I've had her since July," Jones said. "At least just the pelt, and I didn't work on her until October because I had a bunch of commissions and I knew I had to finish those before I could finish my personal stuff. She took a day, but the body took forever because it was all sewing, but the face is just a sculpture under there. Because I was posting all the progress I had, people were pre-claiming her and then I just took offers and the highest bidder got the mount. She was gone in two hours after I listed her."
She start her process by going online to purchase a pelt from her usual vendor, Moscow Hide and Fur, which usually costs her at least $150 or more depending on the size of the animal, and then gets to work on creating the piece. Jones also has high demands for specific requests, so she also offers commissions for customers looking for something a little more specific. According to Jones, these commissions are popular, which calls for more time spent on all of her work, which leads to a deeper attachment to her work and inspires her to create serious goals for her future in the art.
"I mean you get attached to all of them, it's sentimental," Jones said. "It was an animal at some point, it lived a whole life and now it's here and we're using all of these artistic fields- sculpture, drawing, painting- to bring it back to life in a way, and doing it very artistically. People don't realize how artistic it is. One of my main goals is not only to go to the Texas Taxidermy Association summer competition, but to maybe go to the world show where there are some of the best artists and sculptures in the world. People don't realize how much is going into making these mounts. Some of these mounts are so incredible and to compete with them would be insane. It's crazy competitive, so it's hard to get really into it and stand out from everyone else, so it's one of my main goals, to make mounts that are unique and have a 'look' to them."
According to Jones, setting goals for her career aids her in advancing her skills, so next summer Jones plans to attend a school specializing in taxidermy in order to expand her skills from what she's used to. Going from only doing a few mounts to solely focusing on the art will aid her in turning this into her career, Jones said.
"It's like a two-week course and they're going to teach me how to cape deer, process carcass, skinning, salting, tanning, prepping skins, form modification, basically all the stuff you need to know," Jones said. "It's probably going to be primarily deer, but we might do some small mammals, like raccoons. Everyone usually starts with a deer, though I have not done a single deer. They're just huge, I never know where I am going to put them."
In 2022 Jones completed around a dozen mounts and always plans to do more with her art. But with some controversial views surrounding taxidermy, there is always a backlash from those who don't agree with the art. To shine a positive light on her taxidermy community, Jones makes sure to explain to onlookers what the art really means for her along with many other artists.
"I think it's really important that people know that taxidermists don't hate animals," Jones said. "I got a lot of backlash on the black coyote I did because people were asking why I killed such a beautiful animal, but ,one I didn't kill it, and two, she was [killing] domestic dogs and cats in a neighborhood. She was too comfortable around people and she was a risk to small kids. No animal is ever killed for the purpose of their fur. The two biggest misconceptions are that we kill animals for their fur or for the purpose of taxidermy and that we don't like animals, which is so wrong. If you're into taxidermy, you already love animals because you want to work with them, you want to do art with them and you want to preserve them. They're not being killed for their fur, they're being killed because they're being a nuisance. I feel it's important to support the ethical preservation of wildlife. "
You can find photos of Jones' work on her Instagram @cr1tt3rz or for sale on her Etsy @Cr1tt3rzCurios where she usually has her common projects posted.