Senior Spotlight: Jessica Mick
"With CPHS News, I'm Jessica Mick."
This line has been played over the speakers during DEN numerous times this year. Along with her occasional appearances on The Wolfcast, senior Jessica Mick has been leading the broadcast team for two years as their executive producer and she has been an editor on the Tracks yearbook staff for two as well.
While she currently has a double block of both yearbook and broadcast, journalism classes haven't always occupied Mick's schedule. It wasn't until seventh grade when she got involved in the yearbook program at Cedar Park Middle School that Mick decided journalism was for her.
She was a part of the "elective wheel" in seventh grade, placing her in the theatre room for part of the year. After overhearing her theatre teacher speak about her yearbook program, saying that it was her favorite class, it didn't take long for Mick to get hooked.
"After that statement, I looked into the class and decided I had to be a part of it the following year," Mick said.
Making it onto the middle school yearbook staff was not a simple task either. Mick says that she first had to fill out a lengthy application and write an article prior to being interviewed in front of the entire staff.
"I had no idea what I was really getting myself into at the time, but I knew I liked to write and it seemed like a really cool class," Mick said. "Little did I know it would end up affecting my entire future career plan."
She made it on staff and was an editor throughout her eighth grade year, setting her up for the many leadership positions Mick would have in high school. In her junior and senior years, Mick has held the titles of president in Key Club, communications officer of the student council and vice president of National Honor Society. Mick is additionally a member of the Rho Kappa Social Studies Honor Society, Science NHS and English NHS. On the side, Mick tutors a freshman once or twice a week for Algebra.
Last year, Mick discovered a journalism honor society called Quill and Scroll which is offered in schools across the country. When she found that Cedar Park didn't offer the society, Mick took it upon herself to make it happen.
"As high school journalists, we spend our days highlighting the successes of all the other students but rarely do we receive recognition ourselves," Mick said. "I wanted to bring an honor society for journalism to our school to remind our young journalists of the value of their work and the impact it holds in our society."
Mick says that taking the stand and leading a group comes easily to her.
"Being a leader has always come really natural to me and it's not something I choose but more where I think I end up fitting in a group a lot of times," Mick said. "Usually when I'm involved in something, I am passionate about it and I dedicate a large amount of my time to it, and I'll often lead in one way or another."
"
I love what I do every single day in yearbook and broadcast so much it's hard to explain."
— Jessica Mick
While leading in several areas presented Mick with the opportunity to share her ideas throughout high school, she found at the end of junior year that she was in over her head.
"I can remember that at a certain point in junior year I really let myself go in the way of mental health and self-care for a little while and it wasn't good," Mick said. "The weird thing was, I don't know how aware of it I was at the time, but there came a point when I realized I was physically and emotionally exhausted and not at all as productive as I knew I could be."
Her clubs were overlapping on top of her extracurriculars and she was in four AP classes. Mick says that it was helpful to talk with mentors such as her mom and teachers like Mrs. Burke about her workload issue. Once she came to the realization that there was a problem, Mick began to implement ways to combat her stress.
"At the end of junior year, I sort of made it my mission to change some of my habits that were making me miserable," Mick said. "I started sleeping more, being on my phone less and doing more stuff outside of school that I Iove. I realized how much of a difference that made."
After she made those changes, Mick says that she found time in her senior year to prepare for college and also have some freedom.
"I cut down this year and made sure my course load was easier so I was able to continue doing what I love," Mick said. "I had time to apply for colleges and scholarships, and still have fun too. I'm glad I learned how to handle stress like that and learn what not to do."
Mick says that even though leading clubs and organizations brought more work, she has become the person she is because of the work she has done throughout high school.
"By leading in yearbook and broadcast, I get the chance to work with so many different people and scenarios and I think all of these experiences really help me grow," Mick said. "I'm stricter but I would say it's helped me become stronger and more disciplined because I've had to be."
Along with obtaining leadership skills, Mick says that it benefitted her to work so closely with the broadcast and yearbook teams.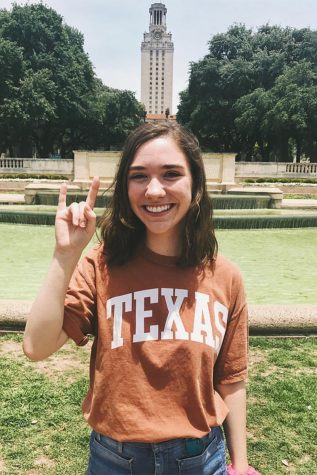 "You have to learn how to work with a group to meet a common goal, and when you get together you can do some really amazing things," Mick said. "I've really learned that I love being able to be there for people and lead by example."

She says that Anthony Garcia, her broadcast advisor, taught her a lot about how to work well in an officer team. When he began teaching their class, he introduced "servant leadership" to the leadership team. This is where the expectation is not only that students create The Wolfcast, but also that they are there for their peers and for the school. They should be willing to stay later, work more, have patience and be a role model for their team.
"It's a high standard to be held to, but I think it makes for better relationships among the staff and just better results," Mick said. "It also means that I never ask anything of the staff that I wouldn't be willing to do myself."
Mick says that while the journalism route isn't necessarily for everyone, it's for her. She will attend the University of Texas at Austin in the fall and will be studying journalism.
"I love what I do every single day in yearbook and broadcast so much it's hard to explain," Mick said. "I deal with the weirdest scenarios, and spend so much time writing, filming, editing, and interviewing. I know some people would find it to be difficult, but to me, I feel so satisfied getting to work on the Wolfcast and the yearbook. Nothing is more satisfying to me than my time spent in yearbook or broadcast."