Soaring to Excellence
UIL Academic Competitors Participate in District Meet, Advance to Region
This‌ ‌year,‌ ‌due‌ ‌to‌ ‌COVID-19‌ ‌restrictions,‌ ‌practice‌ ‌competitions‌ ‌and‌ ‌team‌ ‌preparation‌ ‌opportunities‌ ‌have‌ ‌been‌ ‌limited‌ ‌for‌ ‌the‌ ‌UIL‌ ‌academic‌ ‌teams.‌ ‌However,‌ ‌on‌ ‌March‌ ‌26-27‌ ‌the‌ ‌team‌ ‌competed‌ ‌in‌ ‌their‌ ‌respective‌ ‌academic‌ ‌events.‌ ‌After‌ ‌days‌ ‌filled‌ ‌with‌ ‌competition,‌ ‌five‌ ‌teams‌ ‌and‌ ‌a‌ ‌total‌ ‌of‌ ‌13‌ ‌students‌ ‌qualified‌ ‌for‌ ‌the‌ ‌regional‌ ‌competition.‌
The‌ social‌ ‌studies‌ ‌team,‌ ‌consisting‌ ‌of‌ ‌junior‌ ‌Aiden‌ ‌Seibel,‌ ‌junior‌ ‌Hailey‌ ‌Bowermon,‌ ‌senior‌ ‌Ainsley‌ ‌Shields‌ ‌and‌ ‌junior‌ ‌MJ‌ ‌Kelly‌ ‌placed‌ ‌first.‌ ‌Bowermon‌ ‌and‌ ‌her‌ ‌teammates‌ ‌focused‌ ‌on‌ ‌this‌ ‌year's‌ ‌theme‌ ‌of‌ ‌American‌ ‌Imperialism‌ ‌and‌ ‌when‌ ‌competing,‌ ‌they‌ ‌took‌ ‌part‌ ‌in‌ ‌a‌ ‌45‌ ‌objective‌ ‌question‌ ‌test‌ ‌and‌ ‌wrote‌ ‌an‌ ‌essay.‌ ‌ ‌
"My‌ ‌group‌ ‌and‌ ‌I‌ ‌worked‌ ‌extremely‌ ‌hard‌ ‌in‌ ‌preparing‌ ‌our‌ ‌own‌ ‌resources,‌ ‌whether‌ ‌it‌ ‌Kahoots,‌ ‌Quizlets‌ ‌or‌ ‌even‌ ‌quirky‌ ‌little‌ ‌slogans‌ ‌to‌ ‌remember‌ ‌people's‌ ‌names,"‌ ‌Bowermon‌ ‌said.‌ ‌"I‌ ‌was‌ ‌extremely‌ ‌proud‌ ‌of‌ ‌my‌ ‌team‌ ‌as‌ ‌we‌ ‌all‌ ‌have‌ ‌worked‌ ‌so‌ ‌hard‌ ‌to‌ ‌get‌ ‌up‌ ‌to‌ ‌this‌ ‌point.‌ ‌Individually,‌ ‌I‌ ‌was‌ ‌not‌ ‌too‌ ‌happy‌ ‌with‌ ‌my‌ ‌score,‌ ‌but‌ ‌I‌ ‌was‌ ‌so‌ ‌glad‌ ‌that‌ ‌my‌ ‌team‌ ‌and‌ ‌I‌ ‌pulled‌ ‌through."‌ ‌ ‌
From‌ ‌weekly‌ ‌in-person‌ ‌meetings‌ ‌to‌ ‌virtual‌ ‌practice‌ ‌competitions‌ ‌and‌ ‌independent‌ ‌preparation,‌ ‌the‌ ‌UIL‌ ‌academic‌ ‌teams‌ ‌underwent‌ ‌several‌ ‌changes‌ ‌this‌ ‌year.‌ ‌The‌ ‌science‌ ‌team‌ ‌no‌ ‌longer‌ ‌hosted‌ ‌weekly‌ ‌meetings‌ ‌in‌ ‌Mrs.‌ ‌Trueblood's‌ ‌room‌ ‌and‌ ‌prepared‌ ‌for‌ ‌their‌ ‌two‌ ‌hour‌ ‌long‌ ‌test‌ ‌individually.‌ ‌ ‌
"The‌ ‌questions‌ ‌are‌ ‌all‌ ‌college-level‌ ‌science‌ ‌questions,‌ ‌so‌ ‌in‌ ‌order‌ ‌to‌ ‌do‌ ‌well‌ ‌you‌ ‌have‌ ‌to‌ ‌have‌ ‌a‌ ‌strong‌ ‌science‌ ‌background,"‌ ‌junior‌ ‌Tolani‌ ‌Segun‌ ‌said.‌ ‌"I‌ ‌struggled‌ ‌with‌ ‌pretty‌ ‌much‌ ‌all‌ ‌of‌ ‌it.‌ ‌It‌ ‌also‌ ‌takes‌ ‌a‌ ‌lot‌ ‌of‌ ‌preparation‌ ‌outside‌ ‌of‌ ‌school‌ ‌[because]‌ ‌the‌ ‌test‌ ‌is‌ ‌comprised‌ ‌of‌ ‌20‌ ‌biology,‌ ‌chemistry‌ ‌and‌ ‌physics‌ ‌questions."‌ ‌ ‌
Zoom‌ ‌calls‌ ‌and‌ ‌emails‌ ‌were‌ ‌some‌ ‌of‌ ‌the‌ ‌essential‌ ‌tools‌ ‌used‌ ‌in‌ ‌preparation‌ ‌for‌ ‌the‌ ‌district‌ ‌meet.‌ ‌For‌ ‌senior‌ ‌prose‌ ‌interpretation‌ ‌competitor,‌ ‌Vivianna‌ ‌Mendieta‌ ‌Aleman,‌ ‌this‌ ‌was‌ ‌a‌ ‌hurdle‌ ‌to‌ ‌overcome.‌ ‌ ‌
"This‌ ‌year‌ ‌was‌ ‌a‌ ‌lot‌ ‌different‌ ‌because‌ ‌we‌ ‌couldn't‌ ‌really‌ ‌do‌ ‌group‌ ‌practices‌ ‌and‌ ‌critiques‌ ‌in‌ ‌person‌ ‌but‌ ‌we‌ ‌managed‌ ‌with‌ ‌Zoom‌ ‌calls,"‌ ‌Mendieta‌ ‌Aleman‌ ‌said.‌ ‌ "I‌ ‌struggled‌ ‌a‌ ‌lot‌ ‌with‌ ‌performing‌ ‌in‌ ‌front‌ ‌of‌ ‌others‌ ‌due‌ ‌to‌ ‌the‌ ‌fact‌ ‌that‌ ‌I‌ ‌hadn't‌ ‌gotten‌ ‌the‌ ‌chance‌ ‌to‌ ‌perform‌ ‌my‌ ‌pieces‌ ‌in‌ ‌person‌ ‌to‌ ‌others‌ ‌before‌ ‌the‌ ‌competition."‌ ‌ ‌
In‌ ‌the‌ ‌same‌ ‌way,‌ ‌Bowermon‌ ‌said‌ ‌that‌ ‌when‌ ‌the‌ ‌team‌ ‌finally‌ ‌met‌ ‌in‌ ‌person‌ ‌for‌ ‌the‌ ‌competition,‌ ‌she‌ ‌found‌ ‌it‌ ‌difficult‌ ‌to‌ ‌adjust‌ ‌to‌ ‌a‌ ‌test-taking‌ ‌environment‌ ‌she‌ ‌wasn't‌ ‌quite‌ ‌used‌ ‌to‌ ‌anymore.‌ ‌ ‌
"I‌ ‌definitely‌ ‌struggled‌ ‌on‌ ‌taking‌ ‌the‌ ‌in-person‌ ‌test,"‌ ‌Bowermon‌ ‌said.‌ ‌"I‌ ‌haven't‌ ‌had‌ ‌to‌ ‌take‌ ‌a‌ ‌test‌ ‌in‌ ‌school‌ ‌for‌ ‌a‌ ‌very‌ ‌long‌ ‌time,‌ ‌so‌ ‌that‌ ‌threw‌ ‌me‌ ‌a‌ ‌curveball‌ ‌for‌ ‌sure‌ ‌as‌ ‌it‌ ‌was‌ ‌a‌ ‌completely‌ ‌different‌ ‌setting."‌ ‌ ‌
Time‌ ‌is‌ ‌essential‌ ‌for‌ ‌journalism‌ ‌events.‌ ‌For‌ ‌competitors‌ ‌like‌ ‌junior‌ ‌Nathan‌ ‌Inman‌ ‌who‌ ‌competed‌‌in‌ ‌copy‌ ‌editing‌ ‌and‌ ‌headline‌ ‌writing,‌ ‌this‌ ‌proved‌ ‌challenging‌ ‌even‌ ‌when‌ ‌being‌ ‌used‌ ‌to‌ ‌the‌ ‌format‌‌ and‌ ‌timing‌ ‌of‌ ‌the‌ ‌competitions‌ ‌due‌ ‌to‌ ‌practice‌ ‌meets.‌‌‌
"The‌ ‌actual‌ ‌competition‌ ‌is‌ ‌much‌ ‌more‌ ‌stressful‌ ‌than‌ ‌practice,‌ ‌especially‌ ‌with‌ ‌the‌ ‌time ‌‌constraints,"‌ ‌Inman‌ ‌said.‌ ‌"My‌ ‌favorite‌ ‌event,‌ ‌copy‌ ‌editing,‌ ‌was‌ ‌difficult‌ ‌because‌ ‌of‌ ‌the‌ ‌time.‌ ‌You ‌‌only‌ ‌get‌ ‌15‌ ‌minutes‌ ‌to‌ ‌complete‌ ‌the‌ ‌entire‌ ‌event,‌ ‌which‌ ‌goes‌ ‌by‌ ‌very‌ ‌quickly.‌ ‌Hearing‌ ‌the ‌‌countdown‌ ‌from‌ ‌10‌ ‌minutes‌ ‌and‌ ‌five‌ ‌minutes‌ ‌also‌ ‌makes‌ ‌it‌ ‌stressful."‌‌‌
While‌ ‌both‌ ‌Inman‌ ‌and‌ ‌Bowermon‌ ‌didn't‌ ‌advance‌ ‌to‌ ‌regions‌ ‌individually,‌ ‌both‌ ‌are‌ ‌hopeful‌ ‌to ‌‌place‌ ‌high‌ ‌next‌ ‌year‌ ‌and‌ ‌advance‌ ‌beyond‌ ‌the‌ ‌district‌ ‌competition.‌‌
"I‌ ‌just‌ ‌enjoyed‌ ‌the‌ ‌experience,"‌ ‌Inman‌ ‌said.‌ ‌"I've‌ ‌competed‌ ‌in‌ ‌UIL‌ ‌before‌ ‌but‌ ‌as‌ ‌a‌ ‌team‌ ‌[and]‌ ‌it‌‌ was‌ ‌nice‌ ‌to‌ ‌compete‌ ‌on‌ ‌my‌ ‌own‌ ‌and‌ ‌not‌ ‌have‌ ‌to‌ ‌focus‌ ‌on‌ ‌others.‌ ‌I‌ ‌hope‌ ‌to‌ ‌place‌ ‌higher‌ ‌next‌ ‌year. ‌‌I‌ ‌got‌ ‌fourth‌ ‌in‌ ‌copy‌ ‌editing‌ ‌and‌ ‌my‌ ‌goal‌ ‌is‌ ‌to‌ ‌get‌ ‌into‌ ‌the‌ ‌top‌ ‌three‌ ‌so‌ ‌I‌ ‌can‌ ‌advance‌ ‌to‌ ‌region.‌ ‌I‌‌ didn't‌ ‌place‌ ‌in‌ ‌headline‌ ‌writing‌ ‌this‌ ‌year,‌ ‌so‌ ‌for‌ ‌next‌ ‌year‌ ‌I‌ ‌hope‌ ‌to‌ ‌at‌ ‌least‌ ‌place‌ ‌in‌ ‌the‌ ‌top‌ ‌six, ‌‌even‌ ‌if‌ ‌I‌ ‌don't‌ ‌advance."‌‌
As‌ ‌a‌ ‌first-year‌ ‌competitor,‌ ‌Mendieta‌ ‌Aleman‌ ‌said‌ ‌her‌ ‌advancement‌ ‌to‌ ‌the‌ ‌region‌ ‌competition‌‌ was‌ ‌quite‌ ‌surprising.‌ ‌While‌ ‌she‌ ‌continues‌ ‌to‌ ‌prepare‌ ‌for‌ ‌the‌ ‌region‌ ‌competition‌ ‌she‌ ‌said‌ ‌she‌ ‌is ‌‌focused‌ ‌on‌ ‌the‌ ‌core‌ ‌of‌ ‌the‌ ‌prose‌ ‌interpretation‌ ‌which‌ ‌is‌ ‌to‌ ‌perform‌ ‌her‌ ‌piece‌ ‌with‌ ‌authentic ‌‌emotion‌ ‌and‌ ‌interpretation.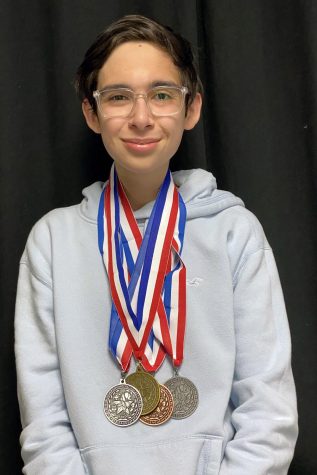 "I was so excited when my teacher told me I ended up in the top three," Mendieta Aleman "When I performed I just let everything go and tried to be the person I was portraying and I feel like that really helped me. My goals heading into region are to embody my piece and not worry about the placement or rank I receive."
Full List of Competitors Advancing to Region Competition:
Computer Science
Team:
● Alex Thummalapalli, Charlie Alpert, Eshan Bharadwaj, Gautham Saravanan -1st Place
Individual:
● Alex Thummalapalli – 1st Place
● Charlie Alpert – 2nd Place
Current Issues & Events
Individual:
● Kate Schulle – 1st Place
● Sydney Fuller – 2nd Place
Journalism
Editorial Writing:
● Tristan Hernandez – 1st Place
Headline Writing:
● Tristan Hernandez – 2nd Place
News Writing:
● Tristan Hernandez – 2nd Place
Science
Team:
● Hemani Goje, Natalie Mayo, Ryan Liu, Tolani Segun – 2nd Place
Social Studies
Team:
● Aiden Seibel, Ainsley Shields, Hailey Bowermon, MJ Kelly – 1st Place
Individual:
● Aiden Seibel – 1st Place
● Ainsley Shields – 2nd Place
Speech/Debate
Persuasive Speaking:
● Riley Pritzlaff – 3rd Place
Prose Interpretation:
● Vivianna Mendieta Aleman – 3rd Place