Where the Magic Begins
Junior Creates Party Princess Business, Discusses Process
The camera flashes on, revealing the flowing blue ballgown of a princess through the screen. The personalized video begins, and the princess offers to sing any of her beloved songs and answer questions the viewers might have. For junior Katie Smith, these one-on-once princess conversations are a result of her hard work and dedication through quarantine. After spending months planning, Smith publicized her party princess business: Cedar Park Princess.
Smith said that she originally came up with the idea in March and began working on it almost immediately. With two years of choir and four years of theatre, Smith has experience singing and acting. Cedar Park Princesses allows her to combine this experience with her passions.
"My favorite thing about going to theme parks is interacting with the characters and having conversations with them," Smith said. "I realized that that's something I could bring to the kids right here in Cedar Park so I immediately started planning."
Along with songs, Smith hosts Zoom calls for one-on-one princess interactions, records personalized videos, and plans on attending parties. She currently has three characters; Cinderella, the Snow Queen, and a female superhero. In the future, Smith said she plans on adding the Scottish Princess and Rapunzel.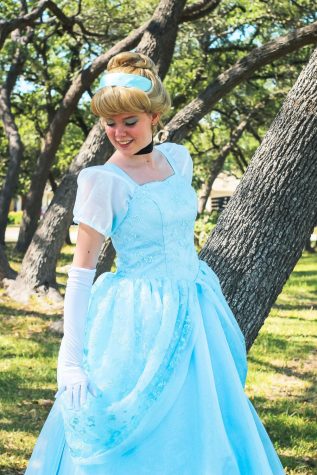 "I got those characters first because Cinderella is the most classic princess story out there and it's one that everybody knows and appreciates," Smith said. "[The Snow Queen] is the most popular princess in the eyes of little kids and I thought it was really important to get her as soon as possible."
For the costumes, Smith said that she keeps a list of about 20 characters she hopes to add to her business one day. To guarantee that her outfits are accurate, she said that she usually spends time googling different characters, then acquires the costumes from Etsy shops such as LovelyLocksShop.
Smith said that although she was the main creator behind the business, she received a lot of encouragement and support from friends and other party princesses.
"My biggest inspiration has to be Cait Baxter," Smith said. "She is the first party princess that I ever found on social media. I have actually been lucky enough to talk to her a few times. She is the kindest soul and I would not have started this business without her ideas and support and inspiration."
While the process behind the business has required plenty of work, Smith said that the end result has been rewarding.
"There [are] those moments when you are walking down the street and some kid sees you and their eyes get so wide and they get so excited," Smith said. "They run up to you and they're like 'oh my goodness Cinderella' and it's just the cutest thing ever. I wouldn't trade it for the world."
In the future, Smith said that she plans on hiring more people to portray characters as well as make it a full-time job all the way through college. For students also hoping to start their own business, Smith said that it is important to appreciate the entire journey.
"Always make sure that it's something you enjoy the process of just as much as the outcome because you really want the outcome to be the second thought since you are going to spend so much time on the process," Smith said.