Writing With a Purpose
Camp Inspires Sophomore to Perform, Publish Poetry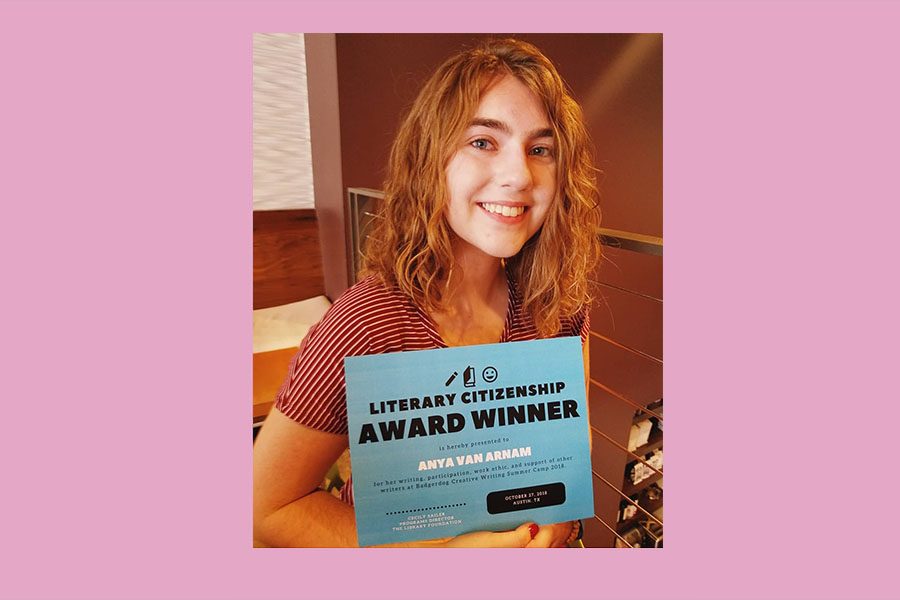 Using only a pencil and a piece of paper, sophomore Anya Van Arnam has discovered her talent in inspiring people through poetry. With four of her pieces already published through The Austin Internation Poetry Festival and a few independent anthologies, she continues to write and practice her skills, motivated by her morals, daily life, and her own ability to influence people.
"There are a lot of things that inspire me," Van Arnam said. "I generally look at what my morals are and then I look at things that are going wrong in the world right now or things that I think should be improved upon. I try to angle my writing so it will leave an effect on the reader."
Van Arnam began writing in eighth grade. At first, she said it was hard for her to find the fun in writing and sharing poetry. It wasn't until she attended Badgerdog Creative Writing Summer Camp that she began to discover and master her own talent.
"I came there thinking that I was terrible at poetry," Van Arnam said. "I thought I was the worst poet alive, then I started doing some exercises, writing off of some prompts and gradually my poetry became better to where I actually enjoyed it a lot."
During the camp, she was required to publish one of her poems through the Badgerdog Publishing company and she had to share her work in front of an audience. When she realized this, Van Arnam said that school presentations seemed a little less intimidating.
"Writing poetry has a lot of benefits," Van Arnam said. "For example, it gave me a lot of confidence in speaking in front of people [and] I saw that class presentations became a lot easier for me. It also forces you to think in a way that narrows down your writing to the finest it can be, think abstractly more [and] from different perspectives."
"
I see on their faces that my meaning is being conveyed, it's really moving."
— Anya Van Arnam (10)
Van Arnam said that eventually her performances became a big component in her poetry and gave her a chance to voice her views. She said she began to enjoy sharing her work and seeing how it moved people in the audience.
"I really like performing my pieces," Van Arnam said. "I would even go as far as to call myself a slam poet because I write my pieces to be performed. It's pretty much like acting. I get up on stage [and] I really use my body to convey the piece. I do a lot of hand gestures, I show the emotion on my face and I really like to see in the audience how I have a grasp on people. I see on their faces that my meaning is being conveyed, it's really moving."
For beginning writers, Van Arnam said that the best thing to do is write and practice as often as possible in order to improve skill.
"Write as often as you can," Van Arnam said. "Practice makes perfect and I think it's really necessary to write as often as you can. Go and join creative writing groups because it's really good to hear feedback on your own writing. That's helped me grow as a writer a lot."
About the Writer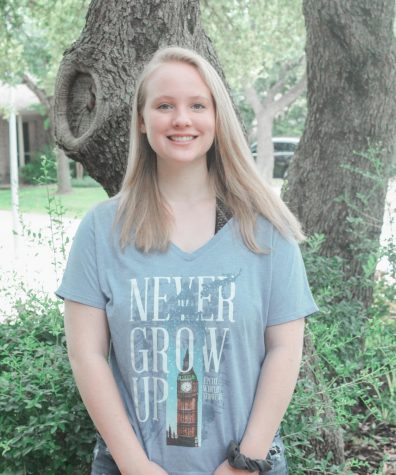 Morgan Kasel, Assistant Editor
Morgan Kasel is a senior and this is her third year on the Wolfpack staff. The majority of her free time outside of school is spent playing soccer, reading or watching her favorite professional team, Atlético Madrid. She loves writing about people's experiences in life, as well as creative short stories for fun. Her dream school is Gonzaga University in Washington and she plans on studying kinesiology and journalism. She hopes to continue on to graduate school for physical therapy. She is passionate about languages and writing and plans to travel during and after college.