Sophomore Autumn Whaley knows everyone is watching her. One wrong move and she could ruin a performance; the intricate motion of her fingers direct the elite army of green and black suits known as the Timberwolf Band. They are commanded by Autumn, the Drum Major.
When Autumn was selected to be one of the three drum majors she was shocked. A coveted spot usually reserved for juniors and seniors was now hers. At first she couldn't understand why they chose her, but since then she's transformed herself into the leader her directors know she is. She is no longer just a shy freshman.
"They saw something in me that I didn't see in myself," Whaley said. "Band made me a lot more outgoing than I would have been."
Her passion for marching band was inspired by her brother, senior trumpet player Luke Whaley. Watching her brother perform at Friday night football games pushed her to audition. She even ended up playing the same instrument.
"I wasn't going to play the trumpet," she said. "But I changed at the last minute because my brother played trumpet."
She has played the trumpet since the sixth grade, but it wasn't until last year after marching season that she fell in love with conducting.
"I started conducting at leadership camp after I took a conducting class," she said.
However, being a drum major isn't all fun and games. It's a lot of hard work and an immense responsibility.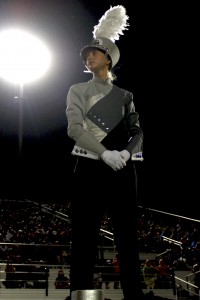 "I feel like I have no time trying to balance school, friends, and being a drum major," Whaley said.
Although the Karate black belt had to give up training and cut back on some of her favorite pastimes like going to the animal shelter with her dad, scrapbooking or hanging out with friends, she knows it's worth it.
"Being on the podium, you're in control when they hit the impacts," Whaley said. "It sounds amazing."
For her first year on the podium she will be conducting the Latin circus inspired show "Celebracíon". Autumn is excited and a little anxious about to the challenge.
"It's definitely a lot more challenging," Whaley said. "Normally we go with classical music, but this year we are doing Latin which has much harder rhythms."
Another added element is the choreography. According to Whaley, the high energy show means a lot more choreography than in previous years.
"What they're doing on the field has never been done before," she said. "It's nerve-racking because if I mess up someone will be off."
Even though she is under a lot of pressure, she's confident that her and her fellow band mate's talent and dedication will be enough for a great season.
"We do as well as we can in everything we do," Whaley said.
Story continues below advertisement