Wand! The Musical
The musical "Wand" put on by the Theater department, premiered Nov.  29 at 7:30 p.m. in the PAC. The show was written by playwright and composer Cyrus Albertson, directed by Mrs. Blake and choreographed by Bill Piner from the Ballet Austin Academy. The show featured live music, amazing sets and backdrops done by Mr. Aviles and the theatre tech crew, and even some onstage magic.
The main cast included:
Mac "Macardi" O'Rielly-Goldstein played by junior Donelvan Thigpen
Kadi McKlaskey played by senior Alexandra Gingrass
Alex Wilson played by junior Dave Hawks
Taylor Johnson played by senior Britney Wilkinson
Drake Miller played by senior Zach Hawks
Carter played by junior Derek Koh
Angel Devine played by junior ChloeJane Busick
The play tells the story of Macardi (Mac) O'Rielly-Goldstein who strives to follow in his deceased father's footsteps by becoming a famous magician. Along with his performance partner and lifelong friend, Alex Wilson, he performs small shows, waiting for his big break. When their agent Drake Miller arranges a meeting for them with showbiz contractor, Kadi McKlaskey, they land a contract that allows them to perform across America. But when Mac and Kadi fall in love, and Kadi wants to leave show business, Mac must make the decision of either staying true to his father's dream or leaving magic to live his own life.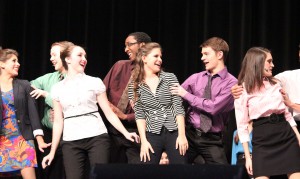 "I loved the experience of being in an original play that had never been done before," freshman Emily Laxton, who was part of the chorus, said. "It was really exciting. Every night we performed was even better than the last, so Sunday was our best show."
The show was astounding, the sets were fabulous, and all the actors performed very well. It was overall, a fantastic musical.