CP Celebrities Celebrate the Holiday Season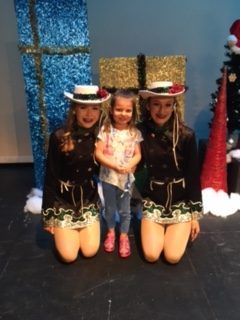 With lights glaring and smiles gleaming, the CPHS Celebrities performed their Holiday show on Thursday, Dec. 1. Attendees brought toys to donate to the Blue Santa, a nonprofit organization that provides gifts for families in need during the holiday season. Other school organizations had their chance to shine on stage such as the Seasons Choir, Varsity Cheerleaders, PALS, Color Guard and Spanish Honor Society; just to name a few. The CPMS dance team, the Crimson Cadets, pranced alongside the students in dance classes from both schools, and members of Evolution Dance Company.
The night began with junior Rebecca Day, member of the Seasons Choir, singing the National Anthem. Soon after, Celebrities twirled candy cane batons, clad in scarlet dresses to the song, "Holly Jolly Christmas," by Michael Buble. Seasons Choir sang "Dance of the Sugar Plum Fairies," while drumming on their collar bones to create their own unique sound.
"I love Seasons Choir, we're all a big family," said sophomore Katie Campbell. "We all love to sing and just being able to entertain and express our passion to an audience is an amazing opportunity. We've been preparing for the show since early November, and it has been very important to stay on top of things in class and give all of our effort into doing what we love."
Cedar Park's dance class twirled to the tune of "All I Want for Christmas is You," by Mariah Carey, while wearing knit sweaters. The audience sang along with Spanish Honor Society to "Feliz Navidad," to bring Christmas spirit from other cultures. During intermission, Celebrities Boosters sold bake sale goodies to raise money to support their team.  
After intermission, the PALS held a Holiday themed Kahoot, and the top three winners from the audience received prizes. Mariah Carey's "I Don't Want a Lot for Christmas," blared as Color Guard swirled flags in preparation for the Texas Color Guard Circuit Competition on Jan. 30.
Varsity Choir sang "Fleet Foxes," once again blending their voices in complete harmony, as the Celebrities changed costumes. Parents and grandparents of Celebrities were brought on stage and in the aisles as they danced with their daughters and granddaughters to the old classic, "Hey Baby," by Bruce Channel. Evolution Dance Company performed multiple routines, focusing on the contemporary and hip hop style.
After a few more dance routines by multiple organizations, the Celebrities closed their show with their grand finale. All smiles, the team wished the audience a happy holiday season after the last performance.
"We've been practicing these routines since mid- football season," said Sophomore Celebrity Kelsey McFarland. "It's taken a lot of early mornings, late nights, and hard work to reach our goals. It's really rewarding to entertain the community and express our talents and passion."