The Art of a Dying Sport
In 1964, the top professional bowler made $100,000 a year through tournaments, television appearances and endorsements.
That's the equivalent to $750,000 in today's money. In 2019, however, some professional bowlers struggle to make enough to support a family and often have to work another job in order to make a decent living.
Bowling remains one of the most participated sports in the world, according to the Bowling Museum in Arlington, Texas, except earnings are continuing to decrease. To understand this phenomenon, it's important to understand the history of the "dying" sport.
The History
The beginning of bowling dates back to 300 A.D. in Germany, and even throughout history, a form of bowling was a prominent pastime that people from all classes enjoyed participating in, according to the Bowling Museum. In 1895, Joe Thum, the "grandfather of modern bowling," created the American Bowling Congress, which is known as the United States Bowling Congress and is still active today. Bowling reached its highest point during the 20th century, according to the Bowling Museum, and during the 1950s, bowling was broadcasted on national networks. In 1961, ABC became the first network to telecast the Pro Bowlers Association. During this time, millions of Americans joined together to watch the best of the best compete on TV and bowling was known to be a sport with good pay. Don Carter, a hall of famer, was also the first athlete to receive a $1 million endorsement. According to Luis Cantu, the Youth Coordinator at Highland Lanes in Austin, the sport has been, and still is, going through changes.
"It is dying, but there's also growth again," Cantu said. "Since the '90s, bowling did lose a couple of sponsors, including ABC, and there were two aspects of why it died. It had to do with the bowling centers itself. They started focusing on open play, where there are no leagues and they just want random people to come in and bowl and not in a set schedule of every week."
A Glimpse of Hope
Even though the sport lost larger sponsors other than ABC, such as Pepsi and Coca Cola, and while many bowling alleys have shut down since the 1960s, many younger bowlers are still choosing to be a part of the bowling community. One of the biggest national tournaments for youth to compete in, Junior Gold, has seen a dramatic increase in participants from 1998, when 538 bowlers competed, to 3,832 members in 2018. Not only is bowling thriving in the youth aspect, but because of new sponsors in the adult and competitive aspect, bowling is beginning to grow again.
"I've also seen it start increasing with the new Fox sponsorship that professional bowling has now acquired," Cantu said. "It's a good thing, and it's on the steady increase, but very slow."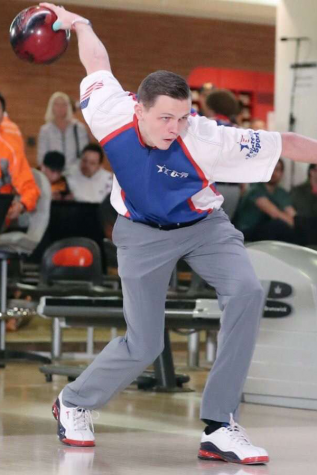 Andrew Anderson, 2018 PBA Player of the Year said that even though bowling centers are becoming "fun centers," he argues that there is more youth participation than ever and that organizations in the bowling industry are making sure that the sport continues to be prominent.
"I, for one, do not think bowling is a dying sport," Anderson said. "I think that the stretch of people think bowling is dying will soon go away, because look at a tournament like Junior Gold, more younger kids are bowling it than ever. It just takes time for change to be noticed."
Even with less than 10 bowlers on tour making $100,000, bowling still hasn't reached its former hay day payout. Despite these numbers, bowling has a strong presence at the college level, especially in Divisions I and II. Stephen F. Austin in Lufkin and Sam Houston State University in Huntsville both have Division I teams for women and West Texas A&M in Canyon has both a men's and women's team, who recently signed Leander High School senior bowler Avery Teets. Whether it be club, National Association of Intercollegiate Athletics (NAIA) or NCAA, schools throughout the U.S. have adopted bowling as a sport and others are continuing to do so.
What Does the Future Hold?
In simplest terms, it comes down to the youth. For today's professional bowlers, bowling is not only important to their career, but it has also shaped their life as a whole, according to Anderson and Cantu.
"Bowling is my life, in simplest terms," Anderson said.  "Yes, it was very cool to win tournaments and compete, but bowling has given me opportunities many dream of. Between traveling the world and meeting friends from numerous different countries, I wouldn't be the same person if I decided to not start bowling all those years ago. Bowling creates friendship and hardship, but it makes you stronger and better in many aspects of life."
With high schools adopting bowling teams and clubs, the more recent schools being Vista Ridge, Cedar Ridge and Cedar Park, and with many centers offering various youth leagues, bowling has been able to stay alive for the younger generations. It is up to the current and future generations to stay active in the bowling industry, according to Cantu.
"If we didn't have kids in the bowling industry, bowling would die in a matter of years," Cantu said. "Bowling is what brings families, especially their kids, happiness. Not even in the professional aspect of the sport, just for the open playing and fun aspect, it brings more light to the bowling center and around the world."
For younger members, centers such as Highland Lanes, Mel's Lone Star Lanes and Westgate Lanes offer youth leagues throughout the year, where members are able to compete as a team with their friends against other teams. High school teams also bowl throughout the fall and spring semester and give both novice and experienced members an opportunity to showcase their talents against other schools in the area and even throughout the state.
"The impact younger players have on the future of the sport is immense," Anderson said. "If you look at some of the best in the sport, many of them are under the age of 25. That means they have many more years of being competitive, where 10 to 20 years ago, many bowlers would hit their prime in the late 20's. Younger bowlers are learning faster and adapting to environments better than ever. Of course, two-handed bowling plays a huge part in that. The better the younger players represent themselves going forward, the better chance the sport of bowling will grow."