A Timberwolf Fall Semester in Review
Highlights, Sports, Organizations, Construction
With new hallways, classrooms, locker rooms and trophies, this semester brought many changes and numerous achievements. With just some of the achievements being highlighted, Cedar Park topped many as they carried out different seasons.
Principal John Sloan commented on the many construction advances made to the school over the summer. New athletic locker rooms were added, as well as a brand new front entrance that ensures the safety of those coming in and out of the school. After beginning in the spring, the science building added some new classrooms for more learning space. Although, the front office may be the most drastic change of them all.
"We went from having the office being in portables[in the front of the building as construction started] to transitioning to a new front entrance and a safer entryway," Sloan said.
The cheer team had a successful first half of their cheer season as they supported football on Fridays, participated at multiple different community service opportunities including Race For The Cure in Austin. They also visited and won the regional cheer competition in November. They competed against both 5A and 6A teams. In regards to next semester, they will continue to prepare for their UIL competition in the spring where they will compete for their third state title. Captain Grayson Moore stated what made them successful this semester.
"Just a lot of practicing every single day [made us more successful]," Moore said. "Working as a team and just respecting each other as a team."
For the first time in team history, the varsity tennis team won the district title. After district, tennis advanced through two rounds of the playoffs before losing to Georgetown in the third round. Next semester, tennis will be competing in individual tennis, meaning singles, doubles, or mixed doubles. In the spring semester, these singles matches will represent the school, rather than earn points as a whole team for the school. Senior Kaley Johnson reflected on how well the team stepped up and competed with each other and supported each other, as well.
"We accomplished a lot," Johnson said. "Most importantly, I'm proud of what we accomplished for Coach Ballinger. He's been the CPHS tennis coach for a little over a decade and I'm very happy to have been on a team this year to make him proud."
Boys and girls varsity cross country swept the district title and regional title. Cross country traveled to state where the girls placed ninth and the boys placed seventh. Sophomore Alexa Yeager said that they hope for redemption at state next year after this year's results.
"We started the summer off with a new coach and new training system," Yeager said. "I think that as a team, we've adapted to the changes well and have created stronger bonds in the process.
The 2019 varsity volleyball season was complete with many advancements in multiple tournaments. This year, the volleyball team went 10-2 for their district schedule and advanced up to Bidistrict and Area. Senior Jaelyn Grimm discussed that the season was full of improvements, with each mistake resulting in a stronger team. After beating College Station in the Regional Semifinals, the team traveled to Houston, Texas where their
season came to a close
on Nov. 15.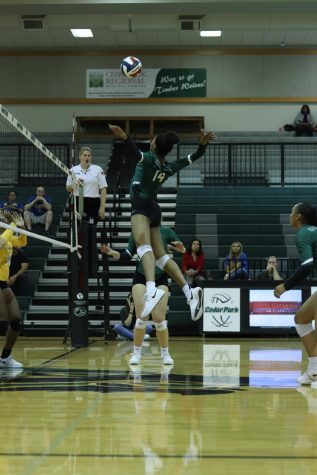 "This season was full of positivity and [we had] a well rounded program," Grimm said. "Each player was selfless and hardworking. The difference was the leadership and coaching. Having a new coach changed us for the better."
From marching fundamentals to multiple rounds of competition, the marching band became the back-to-back-to-back state marching champions. After traveling to San Antonio, Texas, they participated in the preliminary round of the state championship on Nov. 4 and placed second out of 34 other bands. On Nov. 5, Cedar Park was announced as the reigning state marching champions with their show "Icarus: After the Fall." Band also attended multiple school functions including football games every Friday night to support the football team and keep the crowd involved.
"This marching season was a very surreal ending to my high school marching career, and I couldn't be happier with the result of our production that we played in the Alamodome for state finals," senior Noah Hedges said.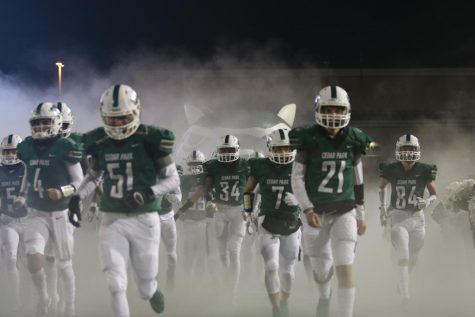 Football had a very successful season after receiving the district title on Nov. 8. After the regular season, the Timberwolves advanced through two rounds of playoffs against McCallum at Gupton and Friendswood at NRG Stadium in Houston, Texas. After a loss in the third round of playoffs against Manor, Cedar Park closed their 2019 season. Junior quarterback Ryder Hernandez said that he is most excited for the people returning next season and is thankful for the bonds built throughout the team.
"Building a lot of friendships with the seniors, a couple of the younger guys and guys in our class was special," Hernandez said. "So, we'll be connected throughout the rest of our lives."
Cedar Park accomplished many things during the fall sports semester and through many organizations as well. The spring still has even more in store for the rest of the year.
"We seem to take things that our kids are accomplishing for granted because they seem to be happening regularly here," Sloan said.