Never Give Up
Varsity Football Teams Up With Nonprofit Organization, CC4C
Standing at just 4 foot tall, first grader Kason Fuller only reaches most of the team's jersey numbers, but the 7-year-old's enthusiasm dominates the Timberwolf practice field.
Fuller was diagnosed with Pediatric Autoimmune Neuropsychiatric Disorder Associated with Streptococcal Infections, or PANDAS, when he was five. He is a part of the nonprofit organization Cheyanna's Champions 4 Children (CC4C).
Founded in 2012, CC4C was created in order to enhance the quality of life for kids with rare or undiagnosed conditions through participation in the community. After dealing with an undiagnosed illness with her own daughter, founder Talaya Frazier was determined to gain support from her community. This year, the varsity football team and several other sports are partnering with CC4C to provide local children with a chance to be a part of the Timberwolf family.
"CC4C helps kids who want to have a regular life [and provides them with] opportunities to live a regular life, like kids who wouldn't normally have the chance to play football, like Kason," Athletic Coordinator and Head Football Coach Michael Quintero said. "We have taken him under our wing and our program has embraced that. He might not necessarily get to play football because of some of his ailments, but being a part of this nonprofit allows him to be part of something that maybe he may not have an opportunity to be a part of and puts a little positive mark on his life."
"
I haven't ever played football before, but me and my dad usually practice outside. We usually catch the ball, and sometimes we act out players. [At practice] I liked doing the warmup, like the lunges."
— Kason Fuller
The varsity team invited Fuller to practice where he participates in team stretch as well as practices his passes and catches. He trains with the team some Wednesdays, and plans to hang out in the locker room before a game and then run through the tunnel with the players. 
"I haven't ever played football before, but me and my dad usually practice outside," Fuller said. "We usually catch the ball, and sometimes we act out players. [At practice] I liked doing the warmup, like the lunges."
According to Kason's mother, Rachel Fuller, he has never really played football before, but after the one practice Fuller attended, now he wants to practice all the time. 
"Kason has not stopped talking about it and wants to practice football everyday with the ball they gave him when he went to practice," Kason's mother, Rachel Fuller, said. "Kason's PANDAS makes it hard sometimes for him to participate in things. The boys on the team have made him feel so special. He has had a more positive attitude, and I've noticed a little more confidence in him. That is huge for him. He loves just throwing the football back and forth with whoever will do it with him to get better."
Fuller's motto is "Never Give Up," something his dad, a 2005 Cedar Park alumnus, always spoke about. 
"Kason has really enjoyed working with the football team," Kason's dad, Paul Fuller, said. "He loves how the older kids talk to him and make him feel special and important. He loves watching them run and throw the ball and likes to do exactly what they do. It feels pretty special that the school I grew up at is pairing with CC4C. It's great to see the kids and the staff reach out and love on Kason."
The players themselves, according to varsity quarterback Josh Pell, love the addition of Fuller to the team. Fuller also gave the players neon green wristbands engraved with his motto for the team to share.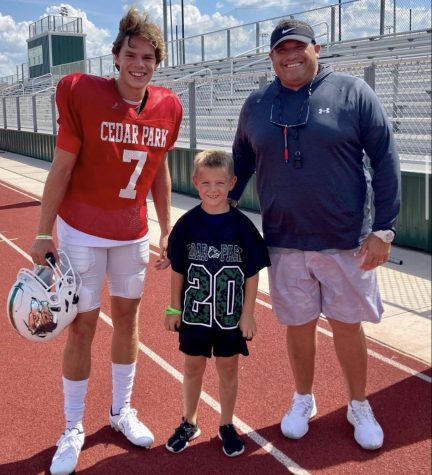 "He's a happy young kid with a pure soul who loves football and the Cedar Park football team," Pell said. "He wants to do normal kid-like things despite his undiagnosed disorder and loves sports and being active. I hope to be a positive role model in his life, and I hope to teach him how to be kind to everyone."
Partnering with CC4C is an opportunity to set the standard high for the football team and community, according to Quintero, who is in his first year as head coach for the Timberwolves. 
"One of the biggest things I have been trying to instill in the kids is the standard that Cedar Park has established for many years: being a servant leader," Quintero said. "I think one of the best characteristics that you can have in life is the ability to serve others. That's something that we've really been preaching to our kids out here. We talk about it all day, but eventually we're going to have to put it to work."
CC4C places each child on their own high school "Dream Team," an organization that they wish to be a part of. The child is made an honorary member of the team while the players learn how to be leaders for their community.   
"I think [CC4C] is a great program that allows kids that never get a chance to play sports get as close as they can to what they love to do," varsity cornerback George Wheeler said. "For a kid that can never play that sport, it definitely means the world to them to be a part of the program."
According to varsity wide receiver and safety Cody Marshall, community is important because it makes football much more worth it.
"You have a community behind you that you play for and you are able to make these people proud and represent them in a positive way," Marshall said. 
The organization also provides funding for families and offers their Mental Health and Wellness program through donation programs and fundraising events.
"There's a lot of times where you take things for granted and become selfish, and I think this is an opportunity for the players to serve somebody that may not have the opportunity to do [something] that they make take for granted, like playing the game of football and being a part of something big and special," Quintero said. "I think it allows them to understand that not everybody has the same quality of life. [Being a part of the team] just gives [Fuller] that positivity in his life where he can be a part of something big."