Senior Morgan Grosch ranked 21 nationally for debate
Debate resolution:  Public colleges and universities in the United States ought not restrict any constitutionally protected speech.
Senior Morgan Grosch studied this year's debate topic written in blue ink on the board, her mind already strategizing the numerous ways in which she would prepare for the debates. As she read the resolution once again, she struggled to understand why colleges and other institutes shouldn't restrict speech.
Weeks passed and she struggled to write cases with hard background on her debate topic. Finally, the time came and it was her first debate with this resolution.
Armed with her laptop, she made her way towards the classroom where the debate was to be held. Nervously she walked into the room. She didn't know what to expect. Her fingers twiddled with the pen in her hand, ready to "flow." Her leg bumped the table rapidly as she waited for the round to start.
Grosch didn't realize that this round would change her mind about everything.
Her heels clicked loudly on the tiled floor as she walked out of the classroom, her mind racing. All this time she had thought about how the restricted speech could help those from suffering from cruel and spiteful slurs. But as she shook hands with her judge and opponent, her view changed.
Wouldn't then the duty come down to the universities on whether what speech should be considered hatred? Then one travels down a slippery slope.
This one round was one of the few that Grosch felt like she had a firm grasp about her position and her ideology, yet this debate taught her that there is always room to change your position.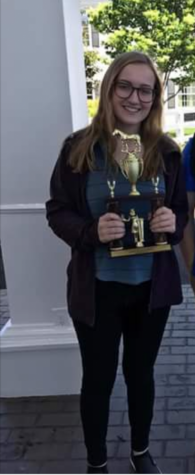 This was one of the most important debates that she had ever competed in for one simple reason:
"It made me question my political beliefs that I had previously found as incontestable."
In her senior year in debate, Grosch has acquired numerous awards, including UIL 5A State Champion, sixth Speaker and octo-finalist at the Tournament of Champions (nationals) and is a three time TFA State Qualifier. In addition, she is ranked 21 st in the country for debate.
In the fall, she will attend University of Texas at Austin with a full academic scholarship, and will be a part of UT McCombs Business Honor Program, one of the highest achievements in the McCombs school, as well as the Plan II Honors degree plan.