The Pulsera Project
Spanish NHS Students Sell Handmade Bracelets, Purses From Central American Artists
Indian activist Mahatma Gandhi once said, "you must be the change you wish to see in the world." By taking part in the Pulsera Project, the Spanish Honor Society is bringing a colorful change to countries in Central America, as well as to the local community.
"It gives them a sense of community, of doing good or helping other people," club sponsor and Spanish teacher, Larisa Kulis, said. "You have to know the Pulsera Project is mainly supporting women and children in countries like Guatemala and Nicaragua, [giving them] opportunities for employment or [opportunities] not so often met in these countries."
The Pulsera Project, a nonprofit organization founded in 2009, brings together schools from all over the U.S. with colorful, handmade bracelets and purses made by Central Americans. Students in SHS annually volunteer to sell these items so that the Pulsera Project can put the proceeds towards Central American education and help create jobs. Kulis said that students learn to appreciate and understand the unique culture in Latin American communities as well as how to improve the lives in Central America.
"On each pulsera, it comes with a tag and tells you who made it," Kulis said. "I think it's a bit more personalized and because the students see [that], it gives them a sense of self-worth. It's a positive thing and it gives them a sense of fulfilling something good."
Not everyone in SHS is required to participate in the Pulsera Project; the society votes on certain projects they want to be a part of and from there, members can choose which projects to participate in.
Junior Ryan Sawicki, who has been a member of SHS for almost a year, said that he took part in this project for the chance to help citizens in Central America find jobs, pay for healthcare and even improve the educational system.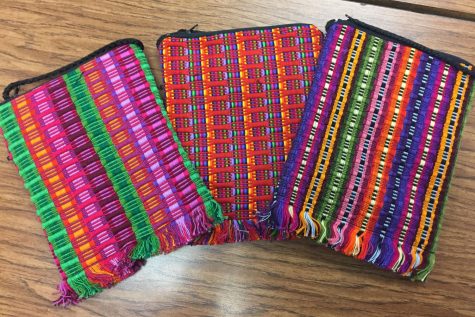 "I knew a bunch of people who wanted to buy pulseras," Sawicki said. "I think the Pulsera Project is a really cool opportunity for us to help people in need of employment and education even though we aren't able to help them directly."
Senior Leah Wilcox joined SHS at the end of her sophomore year. Wilcox said that she believes by selling pulseras, the community gets the chance to feel more connected with people in different countries.
"It allows our community to give back to less fortunate communities that need more help," Wilcox said. "It connects people from around the world."
Over 1,000 schools across the country have helped spread the Pulsera Project. By sharing the art of people in countries like Nicaragua and Guatemala, these students have supported people in finding well-paying jobs, housing, healthcare and they have helped improve the educational system in poorer parts of countries with the funds they sent back.
To find more information about the Pulsera Project, click here.