What's That Smell?
Cast Members Reflect on Experience With 'Something Rotten' Musical
Tap dancing eggs, kick lines in red tutus and numerous live singing numbers were all featured in the theater department's musical 'Something Rotten'. Outfits from the renaissance were worn, girls in corsets and men in flowy poet shirts. Various sets being pulled in all different directions behind the performers.
'Something Rotten' was set in the renaissance era with two brothers, Nick and Nigel Bottom, played by junior Brady Allen and senior Ethan Hexter, who are struggling writers. They have been tossed into the shadows of William Shakespeare, who was incredibly popular at the time. Nick Bottom proceeds to look into the future via psychic and discovers that musicals will be the next big hit.
The theatre department had been working on 'Something Rotten' since May of 2021. From reading over scripts to taking tap-dancing classes, they had the entire summer to prepare and to go over lines. Theater director Alisa Mirabella will be overseeing the production, accompanied by students in leadership roles, such as junior and assistant director, Ryleigh Jordan, and senior and Hair and Makeup Head MJ Kelly.
"I think I have a lot of responsibilities, including leading rehearsals, closely communicating with the director and even blocking some of the scenes," Jordan said. "It's been really fun getting to work with the cast and also the crew. Because with other tech jobs, you either work with just the crew or just the cast, but I get to work with both, which is really fun and it's helped me grow relationships with other people and a lot of the underclassmen."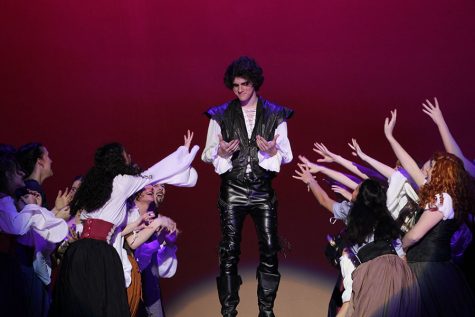 Even though they've been preparing for quite some time, the theatre department ran into a couple of problems during rehearsals. Numerous lead performers contracted COVID-19. Although it was taxing on everyone involved in the musical, it was especially difficult for senior Lucy Walter, who was double casted as Bea Bottom.
"It was a little bit of a switch, because I had been practicing to switch between ensemble and Bea," Walter said. "So, I have different costumes, different entrances, exits, blocking, I have different parts in songs and I do different routines as well. I kind of had to abandon being in the ensemble, so it was just like I get to focus on one role which has definitely made it easier. But we did have to work around forms and give extra parts that I had as the ensemble to other people. So, I think it's been a little bit of a difficult adjustment, because of how we went about the process of being double casted and how that worked throughout rehearsal thus far. But I think we're doing pretty good this week."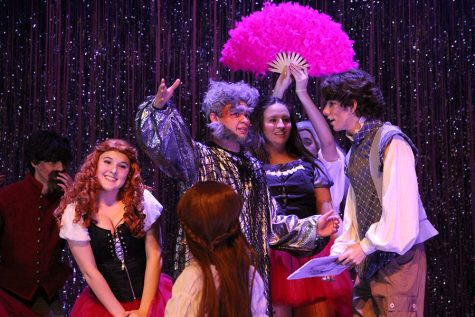 COVID-19 wasn't the only setback that the cast experienced: there were also troubles with the orchestra, who had come in a little over a week before the show would be first performed. It took a lot of practice from both the cast and the orchestra themselves to get the music down. In addition, complications with blocking scenes was also an issue, since many of the cast members had extracurriculars outside of school, junior Cyrus Vansickle, being one of those people.
"Because people in general have a lot of stuff on their plate when it comes to the leads and what people are doing outside of school," Vansickle said. "Whether it be dance or sports, it took me, personally, a while to myget  blocking done. It would've been done like two months ago, but we ended up getting it finished a few weeks ago. I only have four or five scenes and it took a really long time for me to actually get my blocking down. So it took a decent amount of time for everybody to get their blocking, which then made it harder for us to focus on music as well. It was just a big cluster of chaos where we agreed that we had to push and do every single thing in the span of a week or two. It was just a lot of pushing in order to go and actually do it well, but I think we've really pulled it off and it's going to be great."