Works of Heart
Scholastic Competition Participants Discuss Excitement, Achievements
For years, the Scholastic Art and Writing Competition has given high school students a chance to demonstrate their creativity through artistic and written pieces. There are many categories within the competition, and students can submit anything from photography, ceramics, or short stories.
After submitting pieces in December, multiple members in ceramics and art classes received honorable mentions. Two students were given silver keys, which is similar to second place, and two students were given gold keys, similar to first place. Along with keys, two students were nominated by the judges for the American Vision medal, the top regional honor, which are only given to ten of the competitors in each region. The overall winner of the American Vision medal receives a scholarship and their art is presented in Carnegie Hall.
After receiving a gold key last year, senior Lindsey Elfred submitted a ceramics piece again this year to the scholastic competition. Her piece, which portrayed a degrading human foot, won a gold key and was also nominated as one of the ten pieces for the American Vision medal. While Elfred said that she wasn't expecting her art to go as far as it did, she is pretty happy with the results.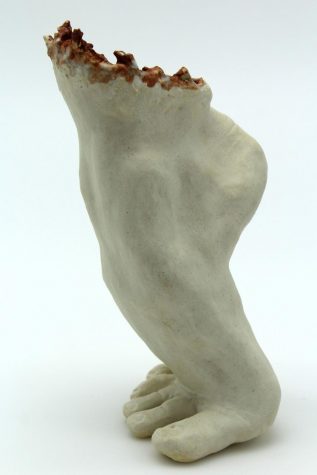 "I thought it was pretty cool," Elfred said. "I didn't expect it. Just thought I would submit something this year, [I] didn't really have my hopes up. So I'm pretty proud of myself that it went at least that far."
Her piece, titled "Achilles' Heel," was part of a portfolio she had made last year in art. Eflred said that her teacher, Leslie Landers, helped with the concept of her piece.
"[Ms. Landers] definitely helped me with my whole concept behind my portfolio and in a sense that individual piece for that portfolio and how to make it more than just an idea and more how to make it into 3-D art and make it represent what I wanted it to represent," Elfred said. "She really helped me develop that idea."
Elfred said that while she was making "Achilles' Heel," the year had been stressful and difficult, and she wanted to capture this idea in her sculpture.
"I just really like high contrast," Elfred said. "I was dealing a lot with stress last year and how that was wearing down my body, so I wanted to show that through my art pieces."
For this competition, Elfred said that in order to be successful, it is important to focus on your own individual piece and the message you hope to convey.
"Don't look at everybody else's piece and be discouraged and feel like yours isn't as good as theirs because it really just takes your own vision and you never know when someone is going to look at your piece," Elfred said. "Just make it based [on] what you really want someone to see and it will end up being heard."
Senior Kieren Garner also received a gold key and the American Vision Nominee for her short story "Scylla," which represented Greek mythology with a twist. Garner began writing the piece in September and said that she is grateful that her story has made it this far.
"
I used to think that my voice wasn't worth putting out there and I used to think that my ideas and my writing were just kind of weird. But then it was like 'wait, people actually like my brain, because I have a different way of thinking."
— Kieren Garner (12)
"I love writing fantasy stuff and for some reason, I'm always writing in my head and basing it off of things that I am passionate about of course," Garner said. "I totally retold the story in my own way. I think that every story is worth telling so I wanted to make this mine, in my own way."
While she is not focused on winning, Garner said that the competition has given her a chance to share her ideas and demonstrate her creativity.
"I used to think that my voice wasn't worth putting out there and I used to think that my ideas and my writing were just kind of weird," Garner said. "But then it was like 'wait, people actually like my brain, because I have a different way of thinking.' I never thought that that was okay to think how I do because I am always thinking about writing and I am always thinking about fantasy things. That's just how I view the world so it really changed how I handle myself. I'm a lot more confident [in] being who I am."
Despite not currently taking a writing class, Garner said that she still received a lot of help from her English teacher, Michelle Iskra.
"She is the most wonderful teacher ever," Garner said. "She sat with me in the mornings and helped me realize that my ideas are okay and helped me edit certain things. She was a true help."
For someone participating in this competition for the first time, Garner said to not focus on winning, only focus on what you are passionate about, whether it is writing or art.
"Just go for it and put your all into it, because you don't have anything to lose," Garner said. "And it's not about winning at all, it's just about knowing that your words are worth putting out there. Just be passionate about whatever you are doing because that's what matters most."
Junior Nixie Buettner has taken art classes since freshman year. This year, she is in Sculpture II and decided to submit one of her pieces to the competition. Her sculpture, "We the People" received an honorable mention.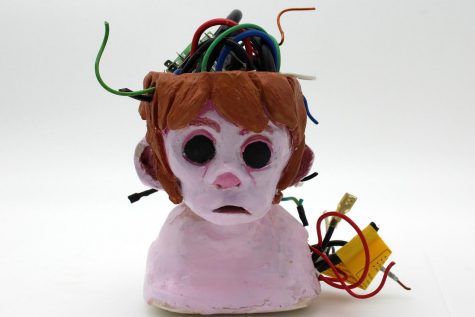 "My inspiration behind the piece was the fact that we are technology ourselves," Buettner said. "We build technology, we run off of technology. Our minds are constantly growing just like how every single day the world is constantly changing."
Buettner said that Landers was a major part in her decision to enter the competition, and she said that she plans on taking art again next year so that she can submit another piece.
"I completely plan on competing again hopefully I will get that scholarship and what I want to do is I want to go into AP sculpture," Buettner said. "Hopefully I can make more full pieces without the time restraints of having to do a project and the restrictions of the project itself."
For more information about the competition and how to submit a piece, visit the Scholastic Art and Writing Competition website.