Review: 2018 Texas Thespians Festival
Each year, theatre programs from around Texas attend the Texas Thespians Festival. This year's festival, which included different workshops, classes, shows and competitions, took place in Grapevine, TX at the Gaylord Texan Resort and Convention Center.
Our theatre troupe – troupe #6289 – competed in different I.E. categories. I performed in group musical and we presented the song "What a Woman Wants" from Kinky Boots in front of the festival judges. It was a great experience to see other schools from around Texas showing off their skills alongside their peers. We got to see a lot of other groups perform, and most of them performed eye-opening songs that seemed to wow the judges and other performers waiting in line. Competing in front of professional judges was a great experience for us, and it was also helpful to read their comments after our performance about what they liked and what they thought we could improve upon in the future. It was my first time competing at the festival, and it turned out to be a relaxing and non-stressful environment, despite the fact that the actors were judged based on every move they made and every note they sung.
Attending workshops was the main part of the festival. The thespians committee brought in a range of directors, performers and actors from around the country to share their skills with all of us theatre kids. In just three days, I furthered my theatre education in many categories, especially dance. The dance classes I took taught me that theatre dancing is more about expression and attitude than the actual choreography. I also took yoga classes, which will help me to relax before big performances and not get so stressed out during shows.
My favorite workshop was a dance class under the direction of Ginger Morris, the Long Center director and GAHSMTA (Greater Austin High School Musical Theatre Awards) coordinator. She taught the class as a Broadway director would: fast paced and without stopping. We learned choreography to "Footloose" in one hour, which is a difficult dance to learn. She taught us to quickly decide the motive of a song and to run with that idea. In the case of "Footloose," we had to decide what we wanted to do with our life and who holds the key to our success. Then, we sang the song as if that person was watching us. This workshop again showed that performing is more about emotion and motive, rather than just the blocking and choreography. Actors have to become their character, and must learn what their motives are in each part of the show.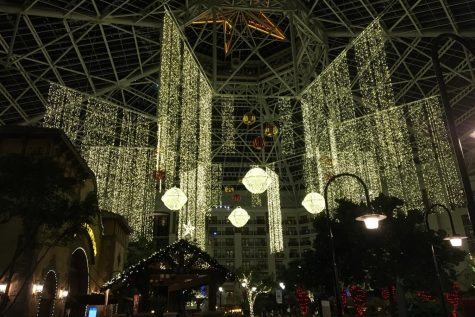 I enjoyed every part of the 2018 Texas Thespians Festival. It was a great time to bond with the other people in our troupe, and also to meet people from other schools. The resort was so beautiful, especially since it was decorated for the Christmas season. I became a much better performer under the direction of professionals, and look forward to utilizing the skills that I learned at the convention when I perform as Professor Callahan in Legally Blonde.