Sundae Funday
Review of New Museum of Ice Cream at Domain
Here's the scoop: rainbow sprinkles, bright neon lights, multicolored floating objects, fruits and candies sprinkled all around and a multitude of ice cream flavors. A world of fantasy and uniqueness portrayed throughout 10 rooms, each with a special theme catered to fun. A new and exciting opportunity to experience.
Quite the popular attraction in New York, the Museum of Ice Cream opened up one of their second locations right here in Austin on Aug. 21. The museum is located at the Domain, and is quite hard to miss, as the entire building is bright pink.
From first glance, the building has a sleek look with black trim and lots of pink. The line was long, but expected, as it was opening day. Reserving and purchasing tickets online was super straightforward, and I liked the ease. The welcome committee was phenomenal. My friend and fellow senior, Bella Rios, and I had a blast from the start. We were first given fresh popsicles that tasted like pink lemonade, which was already a fantastic start. At the door, our tour group met a worker whose name was "Half-Pint" (yes, her legal name!) and she was so ecstatic and outgoing while speaking to us about the Museum of Ice Cream (MOIC) that I myself kept getting more and more excited for what lay ahead.
Quick note: Like I stated earlier, there were ten distinct rooms. For the purpose of being most efficient, I will include only some of my favorite experiences. As this place is truly a unique opportunity (and although I would love to include as much detail as possible), there will be certain aspects I do not describe so I can leave you with some curiosity and surprise.
1.) Ice cream name.
As soon as I stepped through the huge pink door, I was met with a loud surround sound system and a woman's voice. She began explaining what the MOIC was and how exciting it would be. As she was speaking, those of us who were in the room created our own ice cream names (mine was "Rocky Road" and Bella's was "Mexican Vanilla") which we wore on sticker name tags throughout our entire visit. We snapped a couple photos next to the giant neon Mike and Ikes littering the walls, and waited for our first ice cream stop. Even after entering this first room, I still had no idea what to expect from the main portion of the tour. I enjoyed how there was an introductory room before the official start, as it allowed me to familiarize myself with the scene before being thrown into a crazy (awesome) world.
2.) Ice cream diner.
We stepped into the ice cream diner and were immediately met with chattering voices and the smell of sweet ice cream. The parlor was decorated in all sorts of pinks and reds and had a cute neon sign and jukebox in the corner. While waiting in line for ice cream, visitors could work on a little activity sheet with a word search, maze and other cute games. At the bar, I was offered a choice between a few different ice cream flavors and ended up choosing "Birthday Cake." Absolutely delicious. This room is definitely included in my top three favorite rooms, as the atmosphere really brought me back at least several decades (I'm a huge fan of the retro scene). I do think it was a bit crowded, but the tour is self-paced and it was opening night, which is understandable.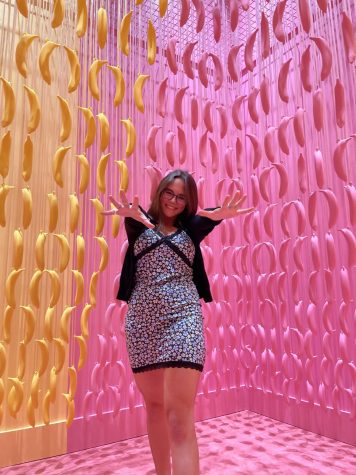 3.) Bananas.
This third room took me on a journey of questions. Why a room full of bananas? Why just hanging bananas? Pink bananas? It really was a wonder, though, and it was something eccentric that I've never seen before. For a good few minutes I stared at the scene around me, and at one point looked straight up and spun, which was pretty amusing. One feature I liked in general is that each room was incredibly distinct from one another, and this room was certainly bizarre.
4.) Circus animal cookies.
This room was beyond entertaining. As soon as you step through the doorway, your eyes are drawn to two giant pink-iced animal cookies on a huge carousel. This was, overall, my second favorite room. In addition to the ice cream from the parlor, I received a sharing of pink cotton candy, which was utterly tasty. While waiting to take pictures with the animal cookies, I took selfies in the warped mirror and played "Scoop-A-Scoop," which is like Whack-A-Mole but with pink ice cream cones. After playing the games, we hopped on top of the cookies and snapped some cute pictures. I thoroughly loved this room because of the numerous interactions and activities there were; it really brought my experience full circle.
5.) Disco hallway.
This hallway was rounded and bedazzled like a disco ball, which made for some sparkling portraits. On the other side of the hallway, there was a wall you could step under and enter a small room with cow print across the walls, but the cow print was mirrors. I admired the originality of the set up, which is why it was so memorable to me.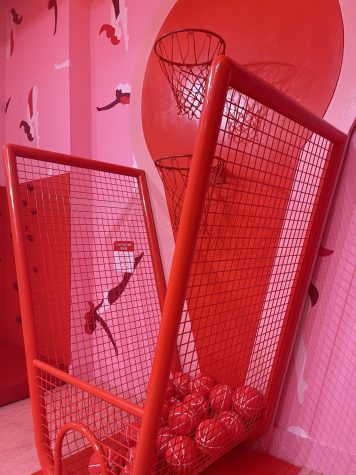 6.) The playground.
This room is wholly my number one favorite out of the entire event. As soon as I stepped onto the floor, my eyes darted between the giant slide, the sprinkle pool and the basketball hoop. My first stop was the basketball hoop, where I competed with Bella to see who could get the basket first. I loved the inclusion of a little competition and sport and making sure there are activities for everyone. Next up was the sprinkle pool, furnished with another slide and diving board. This was my most-loved attraction. I think I hung out here for a solid 20 minutes just throwing around the sprinkles.
After we had exited the playground, our magical moments had almost come to an end. The final portion of the museum ended with a charming gift shop and bar. Even though I did not engage in any drinking (I was sipping my ice cold water, thank you), I browsed the gift shop and looked over their t-shirts and pins (which I definitely recommend checking out because they are SO cute!).
Overall, the MOIC was undoubtedly one of the most incredible, engaging and enjoyable experiences I have ever been a part of. I highly recommend this to any student, friend or family member, as the environment was created to be inclusive for all ages and experiences.
Tickets are selling fast, so click HERE to reserve your spot for $39. In addition to purchasing your ticket, you can choose to add on milkshakes and drinks as well as goodies to take home. I also chose to do the nighttime experience, but there is also a daytime experience option, so be sure to check that out as well. 
Furthermore, the MOIC is looking to hire tour guides and other positions right now. If you are interested, feel free to reach out to me at [email protected] and I can give you more details and information regarding employment.