Big Hero 6 Movie Review
Movie: Big Hero 6
Directors:  Don Hall, Chris Williams
Release Date: November 7, 2014
Rating: 8/10
"Big Hero 6" is the latest Disney film. The movie follows the story of a young genius named Hiro Hamada who is a talented inventor. He is inspired by his older brother Tadashi and his creation Baymax, a robot he invented to help care for the sick and injured. Hiro creates an incredible robot, but tragedy strikes and everything is taken from him. Later, Hiro realizes that a masked figure has stolen his invention. Hiro teams up with his equally-nerdy friends and Baymax to take revenge. They have to work together and get a little inventive to save the day. Hiro and his friends modify their inventions, giving them superhero-like abilities. They then have to learn how to use their creations in new ways in order to take down the villain.
I found the movie cute and heartwarming; who wouldn't love big cuddly Baymax? I liked how "Big Hero 6" was about a boy overcoming grief, which is a very down to earth and relatable storyline in comparison to their last big hit, Frozen. The animation was stunning and it felt like I was right there in the futuristic city of San Fransokyo. I highly recommend this movie; I loved how all the characters were just everyday people with a knack for robotics – they weren't superheroes, just college kids trying to take back what was theirs.
About the Writer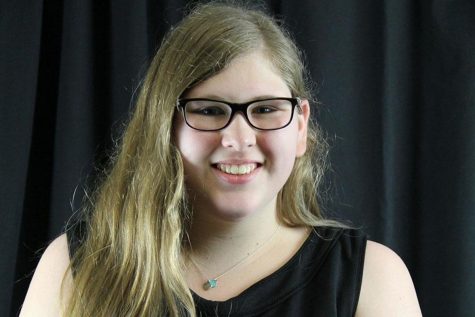 Avery Deen, Reporter
Avery Deen is a senior going into her third year on staff of the Wolfpack. When she's not dying of homework from her six AP classes, she enjoys reading and stalking her favorite authors at book festivals. She is president of book club, vice president of Sigma Nu Gamma, and the treasurer of the Harry Potter club. She has been accepted to the University of North Texas and is looking forward to majoring and pursuing a career in library science. She is a bit OCD and her loves her rainbow organized bookshelves. She absolutely adores her pomeranian Cookie who often prances around in little pink dresses. She hopes to someday live in a cozy apartment will wall to wall bookshelves decorated with antique chotskies with some kind of fluffy small dog to accompany her in her reading chair.