Uptown Dunk
Lady Timberwolves Win Back-to-Back State Titles
62 consecutive wins. Seven seconds left. Two State Championships. One lasting legacy. The game wasn't easy, but making history never is. The clock stopped not once, but twice, before the Lady T-Wolves took their victory at the Alamodome this past Saturday. The varsity girls faced a double overtime match against the Frisco Memorial Warriors 45-40 to win their second consecutive 5A State Championship in San Antonio. 
"I feel like we played absolutely amazing in both games of the State tournament," post and senior Shelby Hayes said. "We pride ourselves on defense and in the State Championship game, we held Frisco Memorial to five single digit quarters. I was overwhelmed with happiness. We had worked so hard all year to get to that point and seeing all of our dreams come true was very special. I remember thinking, 'We just did that. We are back-to-back State Champions.'"
Scoring 27 points and 19 rebounds, guard and junior Gisella Maul was named State Championship game MVP for the second time. Ten of her points came from the double overtime, when she accounted for all of Cedar Park's baskets.
"It was an honor to be named MVP," Maul said. "I was just happy to win, but winning MVP just added the cherry on top. I believe that I had some clutch plays that tied or put us up throughout the game. I knew being face guarded, I wasn't going to get to play outside much, so I knew that I would get my points inside the paint."
The Warriors held off Cedar Park, ranked No. 11 in the nation by Maxpreps, from an easy win. Memorial's biggest lead came in the second quarter when they led by five points, and at halftime it was tied 18-all.
"It was like a fight the whole game," forward and senior Elaine King said. "We knew it wouldn't be easy and each point was neck and neck, so it was more of a mental game than a physical game. When we went to halftime, we knew a new game was happening, so we had the whole half to see what we needed to fix and it was mainly blocking out, staying together and not letting this tough game break us apart."
Hayes spent much of the game in foul trouble, leaving Maul to take on the burden on both ends of the court. 
"I think that the only way they thought they could beat us was to get either myself or G into foul trouble, but luckily they couldn't because we played smart," Hayes said. "I made sure going into the second quarter and second half to play smart."
Both teams played defensively, with the Timberwolves only making 31% of their shots.
"We knew they were athletic and would try and push the ball down the court any chance they got, so we knew we had to stay in front of the ball at all costs," point guard and junior Molly Ly said. "We take lots of pride in our defense, so we took it possession by possession making sure we gave each our all."
The game went back and forth in the fourth quarter, with guard and senior Megan Woods tying the game to send it into overtime.
"I had to guard their best player, and my job was to limit her points," Woods said. "I also made a lay up at the closing end of the fourth quarter to tie it 35-35 and send it to overtime. It was unreal to be back in that type of environment two years in a row, but this time as a senior. It was so exciting and nerve-wracking, but it also felt deserved after all the hard work we had put in."
Regulation time ended tied 35-all, and the Timberwolves went into their first overtime of the season. However, it ended tied 40-all. 
"Going into the overtimes, I was never worried," Maul said. "I knew we were built for this moment and I knew we would be able to close the game out. I felt like I did exactly what I needed to do to help my team win. I scored when I needed to score, and passed when I needed to pass."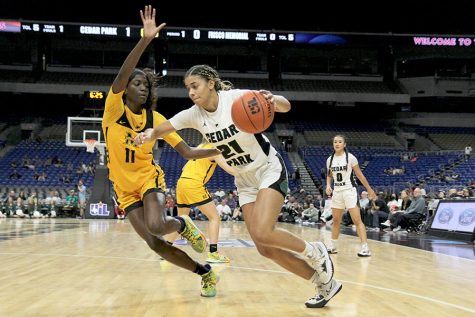 The second overtime ended after Maul scored two foul shots in the last seven seconds, giving the T-Wolves the win.  
"I was stressed," manager Katie Whitmarsh said. "It was intense. I wasn't doubting their abilities to pull through, it was more so you want the outcome. It just went through my mind, the 'what-ifs,' and so there was a lot of stress, but it was a good stress. It was stress that we hadn't had all season, and I think that we needed it just to build some team bonding. When we went into second overtime, that's when I started to lose it even more. At first it was like 'how long is this going to go on for?' and then it was more so just trying to remain calm. I like to think that if I remain calm, the team is calm. I think we were ready for it, and I think they were so deserving of that title."
Maul fouled out Frisco Memorial guard Jasmyn Lott, who led the Warriors with 21 points, at the end of the first overtime, which led the Warriors to score no points in the second overtime while Maul made five points.
"[Fouling out Lott] was a big thing," Whitmarsh said. "I gained a little bit of hope. She plays aggressive and she was going to get out after G and Shelby and try to foul them out. But when she went out, I was like 'this is getting intense' and it was a rush of emotions and excitement and definitely a boost on our side."
This season, the girls' team never faced overtime, much less twice, so when they won, it was amazing, according to Woods.  
"[Winning was] just pure joy with a mix of exhaustion," Woods said. "It was a hard fought battle both physically and mentally, so for the game to finally come to an end and for us to be on the winning side was beyond overwhelming and joyous."
The Lady Timberwolves went undefeated this season, going 37-0, not losing a game since November 2020. The game was their 62nd consecutive victory.             
"I think the consistency in our preparation and diligence to purposely plan practices to get better in our areas of need throughout the season," head coach Donny Ott said. "We've always focused on our defensive philosophies and strategies to ensure we continue to defend at a high rate. [Winning State] is an amazing accomplishment for all coaches and players involved, and I'm beyond proud of each of the girls. I think their ability to stay grounded and connected to each other, their ability to respect all opponents and the consistency in their work efforts each day has played roles in their sustained success."
Cedar Park became the first girls basketball team in the Austin area to ever have a perfect season and only the 25th undefeated state champion in UIL girls basketball history.
"It is crazy to think about the legacy that my teammates and I are leaving here, not just in Cedar Park, but the whole Austin area," Hayes said. "Also to be ranked 11th in the nation is crazy and I am just so proud of how hard our team has worked to get to this moment. These memories that I have made here at Cedar Park will forever have a special place in my heart."