Aid Through Art
Senior Uses Talent To Help Others, Discusses Own Plans For Future
With COVID-19 numbers continuing to rise and many businesses opting to continue to keep it's doors shut despite the recent relaxing of some restrictions, many people are still struggling to stay on their feet financially. This is why senior and art student Gracyn McGathy has decided to use her talent to do her part in helping others during a time like this.
Recently the school sent out an email letting class of 2020 students know that they would be allowed to decorate their graduation caps this year, a tradition often held by many high schools but new to CPHS. McGathy took this as an opportunity to help by offering to paint people's graduation caps in exchange for a donation of any amount to the One Fair Wage fund, a nonprofit organization focused on supporting service workers who are making minimum wage during the pandemic.
"I wanted to find a way to safely do my part to spread goodness in a time when so many people are suffering physically, emotionally, and financially," McGathy said. "When CPHS sent out their announcement, I took it as a sign. I decided that it was the one thing I could do that could make some sort of a difference."
While many others have taken to putting their lives on pause and waiting things out, McGathy's never been someone who can do that. Always needing to be making and creating she knew she had to put the built-up energy to good use.
"Once I decided that I would be accepting payment in the form of donation to charity, I began researching different organizations," McGathy said. "I came across the One Fair Wage Fund and after a bit of reading, decided that it was the right fit, mostly because I know so many individuals are working minimum wage right now simply because it's the only [way] for them to support their family."
McGathy said that she isn't aiming for any certain number of caps to complete but simply wants to paint as many as she can, hoping that any donation made will be making a difference. She also said, on people's requests for caps, that most of them are going for an asthetic feel like flowers or something meaningful to them like a sentimental quote.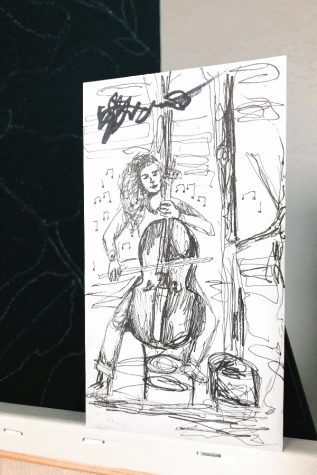 Having been drawn to art since she can remember, McGathy said she does it now because there is a certain sense of intimacy she affiliates with it. Specifically remembering an instance in which she was downtown a few years ago and came across a violinist and cellist playing together on the sidewalk, McGathy managed to borrow a pencil from a stranger and sketched the two musicians.
"I still have that picture I made, and I'm convinced it's one of the most beautiful things I have ever created, simply because I captured their livelihood," McGathy said. "I captured their talent and passion, and the way their fingers pulled as they plucked at the strings. There is no photo that could compare to that. I captured feeling."
McGathy said she is pretty simple when it comes to her style of art. Having taken classes focused on both 2D works, consisting of things like painting and drawing, and 3D works like sculpture, she said she prefers the former more.
"I'm a sucker for acrylic paints simply because they are practical," McGathy said. "For drawing, I guess you can say I'm old fashioned. I prefer just ordinary pencils and paper. I don't think you need extravagant tools to develop a skill for something."
Planning on attending Abilene Christian University in the fall, McGathy will begin her further education in art as a studio art major with a minor in art therapy and is hoping to later narrow that down to a more specific design field in the future but is also open to anything life may through her way.
"Even if I decide to pursue a different degree, I'm confident I'll always have a love for [art]," McGathy said. "I know so many ordinary people with jobs across the spectrum who come home and paint. I hope that I'll always be one of those people. I plan to have every wall in my future house covered in something beautiful."