One Smart Cookie
Senior Seasons Star Heads to Vermont
Her alarm goes off at 5 a.m. By the time she puts her head back on her pillow, it's 11 p.m.
In between those times, she does everything from swimming to studying to singing.
Senior Miranda Moser is in the top 7% of her class, a member of National Honor Society, Mu Alpha Theta Math Honor Society and Science National Honor Society, Choir Vice President, two year Seasons member, National Merit Commended Student, AP Scholar with Distinction and National French Contest Honorable Mention. 
Being part of the choir program for all four years of high school comes with perks, like being a choir officer for three of them. As a sophomore, she was the library officer before becoming a social officer in her junior year. Now, she is the vice president. 
"As vice president of the choir program, the majority of my role is to lead and be a role model and to assist our president, Charlotte," Moser said. "I am in charge of sending Remind texts to the students, and I help Charlotte coordinate events and other activities. Being an officer has taught me a lot about responsibility, being creative and definitely working with others. Before I was an officer, I struggled a lot with working with others because I'm the type of person that just wants to do everything myself and get it all done myself. It has helped me learn how to work as a team and delegate responsibilities so if I have any other leadership opportunities in the future, this will help me with that." 
Alongside her officer roles, Moser has also been a member of Seasons for two years. The group is an audition-only, student-led, all female acapella group that performs at various concerts and events throughout the school year. 
"We pick our own music and learn it ourselves, and we perform at various events and concerts throughout the year," Moser said. "Our main show is called Princess Tea and we all get to dress up as a Disney princess, and it's a cute show for little kids to come to. I love Seasons because it's a built-in community and we are a family. I've made a lot of friends through it. I love singing and I love music and it's fun to have a little challenge sometimes. I've always wanted to continue to be in choir and I wanted to make seasons and I really love it."
Not only is she very involved in the choir program, she has also been swimming competitively for eight years. She is in the Elite group at Waterloo Swimming. 
"I've been swimming for a really long time and I remember the first time I got in the pool and tried to do swimming lessons as a young kid, I cried because the water was too cold," Moser said. "It feels very satisfying to complete a really hard workout and know that you did that and maybe you weren't expecting yourself to get through it. It's fun to see how everything pays off when you go to a meet. Even just going to practice and being with your friends, struggling together, it's fun."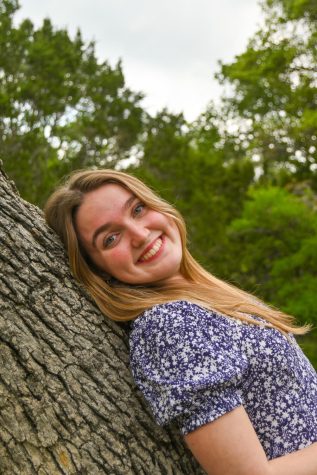 Moser will be going on to study Mathematics and Education at Middlebury College, a private liberal arts college in Middlebury, Vermont.
"I picked it because I always wanted to go out of state for college, and I knew I wanted to try and swim in college," Moser said. "I looked for schools that I knew were gonna be academically challenging that I would also be able to swim at that were on the East Coast, and that's what I found. It's a little scary to move far away, but I have to be confident that I'll make new friends and find a new community. and being on the swim team there will help with that as well."
Even though Moser is going to Vermont, she said there will be many teachers and organizations that she will miss. 
"The teacher I'll miss the most is Mrs. Holt because she's been a big support system in my life, especially the past two years, as I've gotten more involved in choir," Moser said. "I'm gonna miss all the things that make Cedar Park what it is – like the football games, choir events – because I'm not continuing to be in choir, swimming, and [with] all my friends. I'm also going to miss reading the Toilet Times."
Outside of academics, Moser has also worked summer shifts at the organization Girlstart. Girlstart which is an organization that helps young girls from fourth to eighth grade get more involved in STEM. Moser participated when she was in elementary school and then went on to work there last summer and will work there this summer as well. 
"For the summer camp portion, I am going to be a counselor in training since I'm not in college yet," said Moser. "I'll be assisting with the different STEM related lessons they do, and they also do different activities like crafts, and they have a Planetarium. I went to the camp when I was little and that's what [especially] got me interested in math especially, so I'm glad that I can pay it back. It's definitely a full-circle moment."