Running Her Way to College
Senior Receives Running Scholarship, Shares Excitement, Inspiration
Hang on for a minute...we're trying to find some more stories you might like.
Throughout her high school years, senior Sophia Roach has become an accomplished swimmer and runner for both the track and cross country teams. Now, with a scholarship already under her belt, she's only months away from attending Northern Arizona State University, where she can make new memories with a new team.
Although she was a member of the swim team during her first three years of high school, Roach said that she dropped the sport this year to focus on running. She began running in middle school and said she was greatly inspired by her mom, who was also an athlete.
"At the beginning, it was my mom [who inspired me]," Roach said. "She ran in college and I was like, 'Oh, I want to be like my mom.' In the beginning, it was her, and over time, I got more into it. My first big idol is actually not a runner at all. Her name is Lindsey Bond. She's a skier, a really good skier and she influences women the right way."
Besides inspiring her, Roach said that her mom and her family have greatly supported her throughout school and since the beginning of her running career.
"[My family] wants the best for me," Roach said. "They are hard on grades and everything like that. They definitely want me to do the best. They are at every single track meet and everyone knows who they are at the track meets because they are super loud. They are really good supporters."
This year, the girls cross country team ranked third at State. Roach said that this is because every single girl is hard working and always reaching toward success – something that has made her high school running experience memorable.
"My team is amazing," Roach said. "We got a new coach last year and he has brought up the team so well. The girls are so much fun and they are all hard working. It's good to be part of a team in the school that is about winning and wanting to be hard workers."
"
All you have to do is get up in the morning and run. It's as easy as that. Running isn't so much a sport of skill, but mentality. You just have to keep going."
— Sophia Roach (12)
With graduation day just around the corner, Roach said that she is nervous about starting this new chapter in her life and leaving behind the people she has grown up with.
"I'm kind of nervous," Roach said. "I'm like 'Oh shoot, I'm graduating. I'm not going to see these people [any more].' My friends that I hang out with, I have been hanging out with since elementary school. It's kind of weird for me since I'm not going to a school in state. I don't know many people going to my school at all and it's kind of scary because you can't control your connections with people back home."
However, Roach said that although she is nervous, she is also enthusiastic about meeting new people and experiencing college.
"I'm excited to try something new," Roach said. "I think that college is the best time to do that. [I'm] excited to branch out and see a whole new experience and make new friends. I know that there are a whole bunch of people on my team [at Arizona] and they are from all over the world."
For aspiring runners, Roach said that the best advice she can give is to keep practicing and keep pushing forward.
"For runners, just run," Roach said. "All you have to do is get up in the morning and run. It's as easy as that. Running isn't so much a sport of skill, but mentality. You just have to keep going."
Roach is attending Northern Arizona State University starting in August for both running and hotel and restaurant management. One thing Roach said that she hopes to take away from her high school years is the bond she has with her teammates.
"[During] my junior and senior years, the team bond was insane," Roach said. "We got good runners that wanted to work hard and it was such a good experience. I definitely want that in my college career with my college team."
About the Writer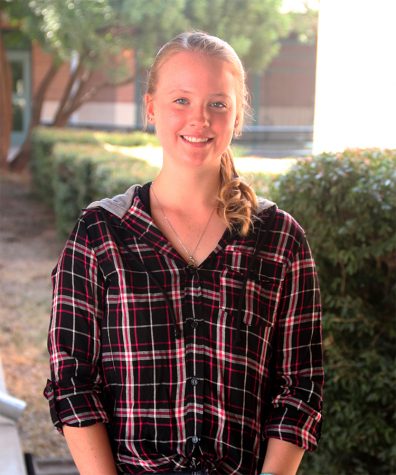 Morgan Kasel, Reporter
Morgan Kasel is a junior and this is her second year on the Wolfpack staff. The majority of her free time outside of school is spent playing soccer, reading, or watching her favorite professional team, Atlético Madrid. She loves writing about people's experiences in life, as well as creative short stories for fun. Although she doesn't know which college she wants to go to, she plans on studying journalism and creative writing, while traveling and playing soccer. She grew up in Colorado and moved to Texas before the start of sixth grade.