Breaking News: Teachers Like to Read, Too
New Instagram Allows Students, Teachers to Post Book Reviews
When a choir teacher goes home, they sing. When an algebra teacher goes home, they do math. When an English teacher goes home, they read.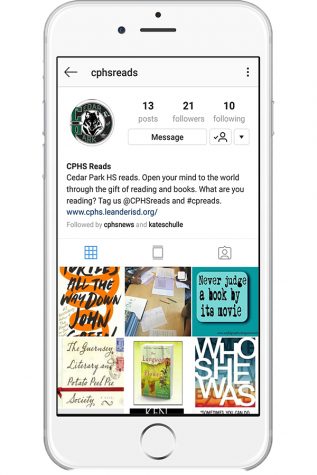 This is a common perception students have, that teachers spend their spare time only on the subject they teach. However this past July, English and Capstone teacher, Lauren Madrid, decided to show that while choir teacher, Lisa Holt, may spend her time on music, she may also spend her time reading.
Over the summer, Madrid created an Instagram to showcase the books her fellow teachers are enjoying. On this Instagram, @cphsreads, there are book reviews from both teachers and students, making for an easy way to find a good book.
"Lists are overwhelming, and the library, with all the books you could be reading, can be overwhelming," Madrid said. "[We want to] give people a place to look for books."
Madrid said that her main goal with the account is to encourage students to gain a sense of what they like to read by seeing what their peers and teachers recommend.
"If you find that Ms. Aguilar likes to read this type of book and follow the things that she recommends, then you could find other books," Madrid said. "[I hope the account encourages] students to read more and find their niche."
One of her friends influenced the idea for this account after showing Madrid her Instagram account, where she posted book reviews and kept track of her favorite books. Madrid said that @cphsreads makes it easy for teachers and students to do just that. 
"
I love having an account that has genuine reviews from people who aren't the critics
— Kate Schulle (10)
"I thought about how many teachers in our school read books and would be a part of a book club if we had time," Madrid said. "And that this would be a good way to gather the books that we all like and share them with each other."
While creating the account, Madrid said she had in mind the decreasing number of passionate readers. Apart from students' limited time for books, she said that a large part of it could be students believing that none of their peers or teachers read.
"Students think that the only teachers that read anything are English teachers," Madrid said. "I thought that this was a way to show that everybody in Cedar Park reads for pleasure, or a lot of people do."
Follower of @cphsreads, sophomore Kate Schulle, said that she is glad Madrid came up with this account.
"I love having an account that has genuine reviews from people who aren't the critics," Schulle said. "It gives me a quick selection to choose from when I need a new read."
Anyone can submit their book reviews and recommendations to the instagram by filling out Madrid's Google form- click here for the form