Power of the People
StuCo Talks Struggles, Plans for Improvement
Mass confusion and canceled high school traditions aren't the usual first-day worries, but for Student Council these nightmare situations became their reality. They tried to kick off the year with the annual Senior Sunrise, typically the first student body event of the year. However, this year's kickoff event didn't go as planned and involved technical difficulties with late group chats, overcast weather and a near-cancellation of the senior year tradition.
Usually, Senior Sunrise takes place on the first day of school at the school's football field, bringing the senior class together for their "last first day." But for this year, the sunrise was held on Aug. 22 and had to be held in the Milburn Park parking lot. The late timing and location changes were due to complications with getting ideas approved by school administration, which caused confusion for the class of '23, according to senior and student body president Ariana Balakrishnan.
"We just did Senior Sunrise and there were a few complications with that, like the weather, but that's something that's out of our hands," Balakrishnan said. "We did surprisingly get some backlash, which I totally understand complaining and asking if it could get moved to a different day. So, some difficulties I would say that came with that is kind of learning how to go with the majority's vote and understand that sometimes people aren't going to like the decision that you made. We try our best to account for it, but sometimes we really do have to make that tough decision."
Although they are just starting on their event planning, the council has already run into its first obstacle. According to senior class representative Ainsley Harlan, getting events cleared through administration has been the hardest part for the Student Council when planning events.
"Really just getting the news out to everyone wasn't the easiest because we don't have access to the reminds that the admin does," Harlan said. "A lot of the stuff we do for these traditions has to be cleared by school admin and sometimes it's really hard to get through them just time-wise."
Senior sunrise brought complications, but it also helped with preparing the new representatives with the quick thinking skills needed for the rest of the year, according to Harlan. Using their experience from past years in StuCo, they were able to overcome these unplanned difficulties.
"Planning events this year, I would say that it was stressful at first just coming in off of summer and not having done anything and then full on sprinting into the first events," Harlan said. "But I think we've gotten the hang of it. We've kind of gotten our feet under us and we have our group chat, so it's gotten a lot easier to communicate. It can be stressful at times, but I think more importantly it's fun. I know that some of the people I'm planning it with, like Ariana, we have a lot of fun doing it and we enjoy what we're doing, and we like giving the student body a voice. It's kind of why we do what we do, to tell the admins what the student body wants."
According to Balakrishnan, the amount of time that goes into planning an event depends on how large the event is. This planning process can take anywhere from a number of months to only a few days. There is also collaboration between council members to ensure the student body gets what they want.
"For more general [events] that the entire student body gets to take part in, like Spirit Week, I kind of run those discussions," Balakrishnan said. "All of the student council members and all officers get to chime in and put input and collectively, as a whole, kind of create a list of things. We don't like to make the decisions ourselves, the student council is representing the student body. So, we then push those decisions out to the student body and ultimately let the final decision be on to them. If there is a tie, that's when the officers will come into play and kind of break that up."
This year, in order to try and limit backlash, the senior class representatives have taken their ideas straight to the people. According to senior class representative Delaney McClure, Student Council likes to ensure the student body is involved and able to voice their opinions when deciding on things like themes, locations and even dates.
"Surrounding Senior sunrise," McClure said. "We decided the best way to respond to backlash was to keep the senior class updated and involved to the best of our ability so that it didn't feel exclusive. It is always nerve-wracking knowing the class could reject our ideas, that's why we've created opportunities for the senior class to be a part of our planning. We do polls, as well as leaving spaces for suggestions so that we can gather ideas from anyone willing to help."
Now that the first occasion for StuCo has passed, the council has moved its focus to their next event, homecoming spirit week. This year Student Council is using these polls as their way to connect with the student body directly, allowing students to vote on what themes they want for the week.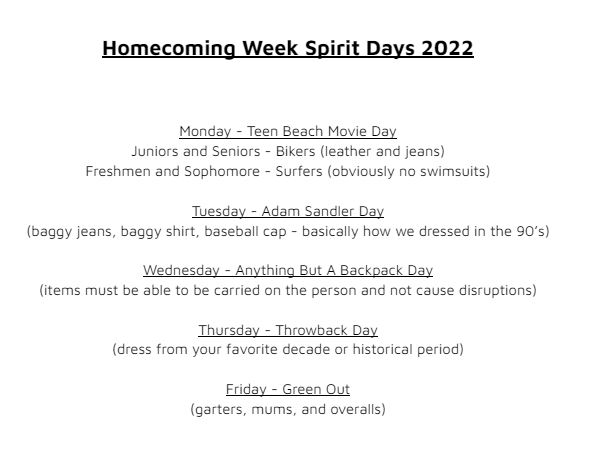 "Polls for homecoming week were definitely very helpful," Harlan said. "Especially because we're revolving everything around the student body this year. We figured by giving everyone choices a lot more people would be happy with it, rather than just creating a bunch of days and throwing it at them. We also tried to switch them up and do ones that you don't see every year, just to make it more interesting."
Trying to appeal to the student body is also a very important task for the council to take into consideration when planning, according to McClure. Being the voice for the student body, the council makes sure that their decisions are based on the student opinion. 
"It is definitely stressful planning these events because we have to worry about what people will think of them [as] it reflects on us and Stuco as a whole," Mcclure said. "I do worry that we are not going to please everyone, but it would be impossible to meet the standards of the entire senior class, so we do what is best for the most people. But, aside from all the stress, it is so fun to be able to plan these events and play a role in everybody's senior year. Above all, we want this year to be so memorable and working towards that is so rewarding."
In order to appeal to as many people as possible, feedback is needed when it comes to planning, according to Harlan. This feedback comes in many different ways, the most common being direct messaging, responding to Instagram stories and the senior Groupme, and are all used as a way to improve their planning to provide for the student body.
"It definitely is really helpful to us because we're here to get the student body's voices across to the admin," Harlan said. "We're used as a bridge. That being said, we need to hear the student body's voice and we need to get a pulse on them. It's super helpful and essential for us."
After the confusion of Senior Sunrise, StuCo wants to make sure that their next events go as smoothly as they plan for, according to Harlan. With the responsibility of representing the entirety of the student body and planning events for them, the council appreciates constructive criticism. 
"Just give us grace and that doesn't mean never give feedback because we do want the feedback," Harlan said. "But when you reach out, just be kind about it. A lot of the people who have reached out have been kind about it and very understanding, but there are definitely some comments that we get that are maybe not trying to come off as mean or rude, but sometimes they can. The main thing I would say is, we're here for you guys, we're here to make you guys happy so please give us feedback and please help us help you."