Lights Out White Out
White Out Game Against Hutto Calls for Annual Black Light Pep Rally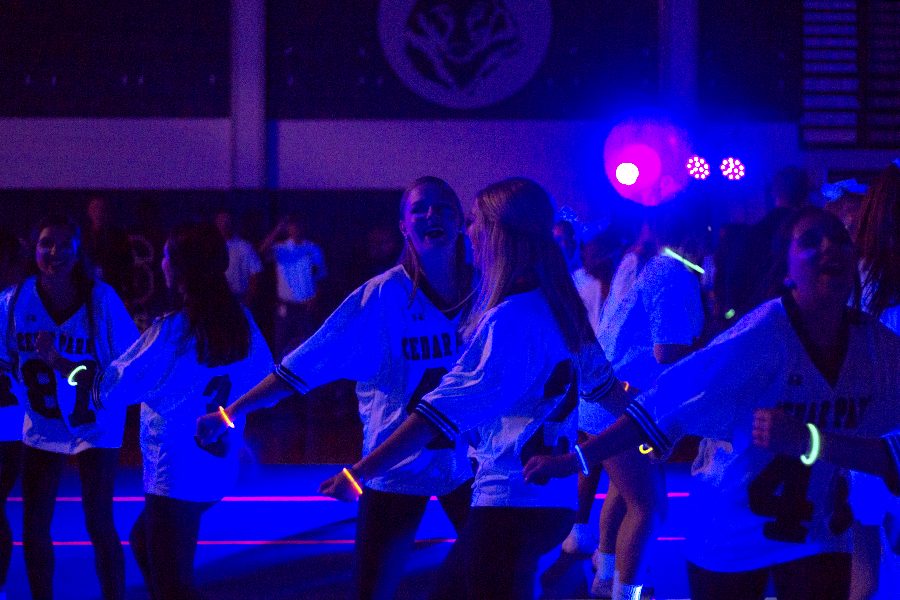 Neon colors and glow in the dark accessories made for a loud, spirit filled gym after second period today. Students glowed in their white t-shirts at this year's black light pep rally as they got hyped for the football game against Hutto. At the pep rally, there was a performance from cheer, who organized the event, as well as performances from Celebrities and Drumline.
Senior Celebrity Lauren Allen said that she was ecstatic about the pep rally turnout today.
"I felt amazing after this pep rally," Allen said. "It was so much fun and everyone had really great energy and I can't wait for tonight. Hutto is one of our bigger rivals and everyone is super hyped about it, it will be a really great game."
Having moved here at the end of last year, junior Antra Patel experienced her very first black light pep rally today, and she said she enjoyed it very much.
"
I loved watching the Celebrities dance and the song selections and music this year made everyone get more into it,"
— Alexis Ayala (11)
"I loved the fact that this pep rally was different from the ones I've seen so far this year," Patel said. "I felt that the effects with the lights made it more lively in the crowds."
Similarly, junior Alexis Ayala said that she found the black light pep rally to be more involved with the students.
"I loved watching the Celebrities dance and the song selections and music this year made everyone get more into it," Ayala said. "I wish it lasted longer. The [performers'] hard work showed through."
Apart from the help that cheer got yesterday evening to set up the black lights, head cheer coach Nadira King said that the team put in weeks of preparation to make the pep rally and their performance entertaining.
"This year, cheer tried to do some different things that would be more visual in the dark," King said. "I was nervous about the fly-over stunts, however we did great."
Since cheer pays to bring in the black lights for the event, the profits from their popular white out shirts will go back into the cheer booster program. The shirts helped students take advantage of the black lights and should bring a uniform look to the student section tonight.
"I think the black light pep rally being for the white out game made students want to buy them more," King said. "The white out game for basketball will be coming up so they can reuse the shirts."
Senior and varsity football player, Jacob Muñoz, said tonight's game against Hutto will be no different than the football games every Friday, as they are going into it with the same determination and practice.
"Tonight's game is just the next one on our schedule," Muñoz said. "We don't take any games lightly, and we are excited and ready to play tonight as spirits are high and we've had a good week of practice."
About the Contributor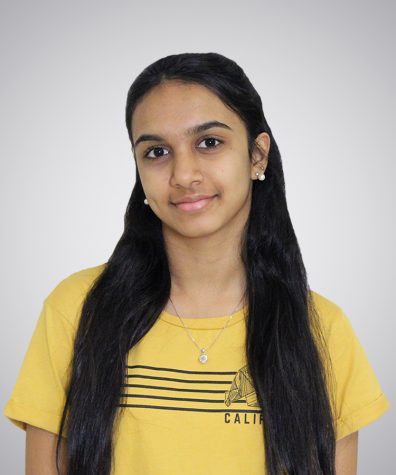 Nithila Ilangovan, Reporter
Nithila is a senior here at Cedar Park High School and this is her first year on The Wolfpack staff. She is involved in multiple honor societies, and holds an officer position in DECA. She primarily enjoys writing articles that people will be able to relate to, or learn something from. Outside of school, she enjoys participating in productions by her dance school, and is currently working on becoming a student teacher there. She also loves playing with little kids while she volunteers at Thinkery Children's Museum. Finally, she hopes to study Architecture in college  and will most definitely take her passion for writing along with her.