The Life of a Celebrity
Erica Shepherd's Journey as a Dancer
Designer clothes, enormous mansions and luxury vehicles are just some of the perks that are associated with being a celebrity. For most, being a celebrity is a distant dream but for senior Erica Shepherd being a Celebrity is about perseverance, integrity, and of course, dance.  While some celebrities may spend their days lounging in their mansions and getting into Twitter feuds Shepherd spends her's proving herself every day on the Celebrities dance team. 
"I joined Celebs because I love dance and I've been dancing since I was five, but I also wanted to find a way to get more involved in my school," Shepherd said. "I enjoy the feeling of performing and making people happy through my dancing I love that I get to come to school every day and do the one thing that I love."
Being a Celeb is not an easy job according to Shepherd. Practices begin early in the morning and can last for up to two hours. They have a very intense training regime that consists of practicing their routines for the upcoming games, or performing stretches and aerobic workouts to get themselves ready. Shepherd has to make sure she takes extra good care of her body in order to stay prepared.
"I usually do an Epsom salt bath in order to make sure I'm good and warm and ready to go for the morning," Shepherd said.  "I also drink Mountain Dew before my performances to boost my energy. Lastly, I always make sure to listen to music when I'm getting ready and practicing to get into the vibe."
Shepherd has been a Social Officer since her junior year, and for her team spirit, she earned the Officer Choice award. She plans to try out for the college dance team at a campus of her choice while she is majoring in business. She also hopes to start her own YouTube channel and she feels that her experiences at Cedar Park High School have helped shape her future.
"I've learned how to become a good leader as well as how to put on pounds of green glitter," Shepherd said. "I've also learned that you cannot be silent in a world full of injustice." 
While her dancing skills are what many may know her for Shepherd is also involved in the Black student union. She uses her voice to speak for those in our school community and advocate for the Black student population. She is now one of its Officers and is continuing to spread awareness at CPHS.
"The Black student union has helped me find my voice at school," Shepherd said. "This club has shaped me into a stronger leader and I'm more confident in my life because of it, this is my home away from home, my safe space, and not everyone has a club that is so full of culture and life. We feed off each others experiences of being black in America and help build one another up. It truly is the best club at CPHS."
About the Writer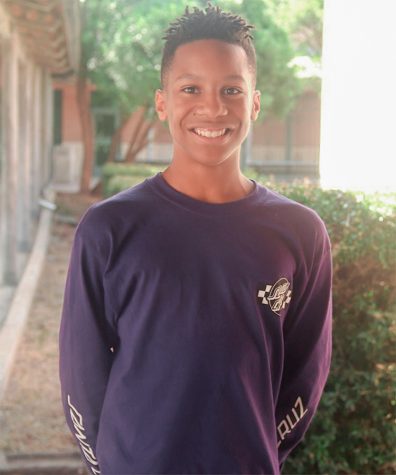 Isaiah Prophet, Reporter
Isaiah Prophet is a Junior and second-year reporter. He is the media manager for the the African American Heritage Club. He enjoys writing topics about society and the human condition. As far as his plans for after high school, Isaiah plan's to go to college for anatomic pathology or app development.