The Meg
Three Sport Athlete Highlights School Career
Her mind moves one hundred miles a minute anticipating the ball being passed or set to her. She glides up in the air as the ball is set to her and swings toward the ground using all her power to maximize the strength of the hit. Next, she views the timer as there is only a minute left on the clock. She's passed the basketball and sprints down the court in hopes of winning the game. She shoots and the ball swishes in the basket winning the basketball game.
Senior Megan Woods is a tri-sport athlete who competes at the varsity level for volleyball, basketball and track. This year, she said she had to step into more of a leadership role for these sports to help the teams become stronger physically and emotionally.
"I definitely have to work very hard," Woods said. "It's hard to show up to practice every single day for multiple sports and to continue on when you really don't want to go, so I definitely had to learn how to put myself aside and show up for the people around me and for my coaches."
Woods played as an outside hitter for the varsity volleyball team, who finished third in district with an 11-4 record. She played in small YMCA leagues when she was younger, but really began to gain interest in the sport in seventh grade when she made the CPMS team. 
"Being a part of the volleyball program was a unique and fun experience," Woods said. "It helped me grow and develop as a person, as well as an athlete. I am beyond grateful for the friendships I've made while being part of the program and will cherish all of the memories I've made with my teammates and coaches that have become my second family."
Megan has played at the varsity level since her sophomore year and played in 231 sets in those three years. She had a total of 261 kills, 35 blocks, 239 digs and 26 aces in her high school career, according to MaxPreps.
"In volleyball, I helped the team by being vocal and supportive of the team," Woods said. "I definitely didn't know the most on the team, but I didn't try to teach others or anything. I was more there for people to lean on. I was just talkative and there to help support my teammates throughout the entire season."
The transition between sports after volleyball was over was tough, according to Woods, because she had not been practicing basketball like her fellow basketball teammates. She said she had to continue her work ethic going from volleyball to basketball.
"Going into basketball season was hard for me because I had just gotten out of volleyball season," Woods said. "I had to be there and work hard and show my leadership through how hard I worked. My hope was that this would inspire others to work hard as well."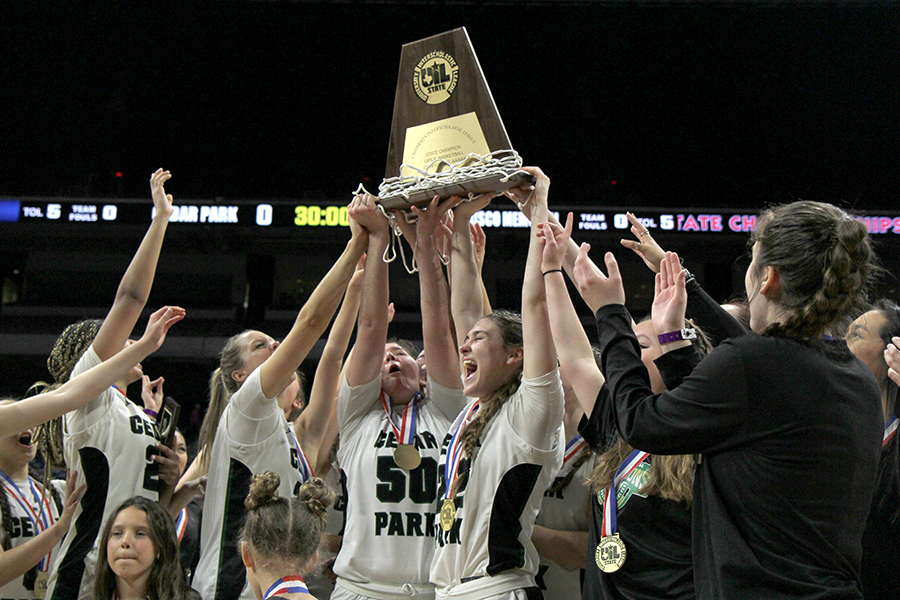 From November to March, Woods was one of six seniors who played for the state championship basketball team. The team finished their season undefeated and became back-to-back state champions, beating Frisco Memorial High School, winning 45-40 in double overtime.
"I was a little nervous going into the state game," Woods said. "I was excited because I knew it was potentially my last game for basketball and it was a mix of nerves and excitement, but more excitement but I was confident in my team. We had worked so hard so I was confident that I knew what the ending outcome was going to be. I was super excited to play and show what we could do."
Woods also runs on the varsity track team, in the four by two, and competes in high jump and long jump. Although she has had little practice because of the ending of basketball season, she says she continues to put in 100% effort and compete in every event she is in.
"I came out with a week and a half left before districts," Woods said. "It's definitely been hard, but I have been going to practices and listening to my coaches. I've been going out there trying to be athletic and do what I can with the little amount of practice I have had."
She says she really enjoys competition and finding ways to stay fit and do things that are healthy for her body. She will continue to stay active anywhere she goes, but she is deciding between playing basketball at Texas Woman's University or attending Utah Valley University. She is interested in becoming a family medicine physician or studying business management. In the future, Woods said she will always utilize the mindset that was taught to her at Cedar Park and she plans to always stay connected to the community and at Cedar Park throughout all of college. 
"I have built a lot of connections, especially at this school," Woods said. "I have met some lifelong friends, who I will continue to adore for the rest of my life."