Get the Kicks
Junior Varsity, Varsity Soccer Teams Attest to Season Performance
The cool, evening air moves through the home soccer field as players scrimmage and advance the ball to score. In the close game, the loud shouts of names are called to the goalkeeper from open players. With the ball thrown, a player quickly push kicks the ball to the next, weaving between the legs of opposing players.
The girls varsity team is currently ranked first in district with 12 wins, zero losses and three ties overall. Goalkeeper and senior Ana Childress has a goals against average of 0.133, signifying few goals allowed from the opponent by the minutes played. The girls won 1-0 against Hebron high school in a tournament game on Jan. 13.
"The game I'm most proud of is definitely Hebron," Childress said. "They're a 6A powerhouse team, with division one commits and a national team call up. We ended up with the win. It wasn't pretty soccer, but we left it all on the field. I was really proud of our performance as a team that day. I'm hoping to keep my shutout streak. I've only gotten scored on once, and it was in preseason. So fingers crossed."
Senior and varsity boys captain Eugenio Guzman has been playing soccer for 13 years. According to him, being elected captain was special because it is a team decision.
"I was chosen by every person on the team so it really means a lot because I know they look up to me and they respect me so as a result of that you know I have to be a leader for them," Guzman said. "I have to set an example in everything they do, on and off the field. It's been a great bond [playing with my teammates]. We don't just hang out in school we hang out outside of school. We're really good friends. We hang out on weekends and we talk constantly with each other so that we can keep a strong relationship because that also helps the team in the soccer program."
On Feb. 25, boys varsity won their home game against Liberty Hill 2-0. Guzman has played the position of center-midfield throughout high school.
"It was our first win in district so it was a pretty good feeling and it was refreshing," Guzman said. "It put is back to the race for play-offs. I play center-midfield, it entails doing a lot of the jobs both offense and defense. You have to defend and also you have to attack. All over the field."
The girls teams started the school year off with new head coach Winston Pool and assistant coach Emily Clark.
"The season was difficult to adjust to at first," Childress said. "We basically started over with a new team and coach. But once games started, I knew we'd be okay. We haven't lost yet, so we must be doing something right."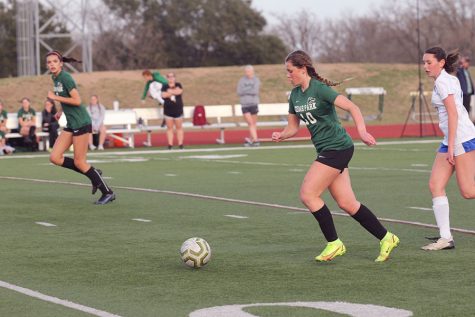 Dual athletes, like sophomore Abbie Hall, play two or more sports depending on the season. For her, she runs cross country in the fall and plays on the JV soccer team in the spring. According to Hall, her goal this season is to become District champions.
"A team bond is very important and helps you play better," Hall said. "Our soccer team bond continues to grow stronger with each practice. We also have team dinners each week where we continue to build our bond. We laugh and all enjoy each other's company. [In both sports, Cross Country and Soccer] you end up really rooting for the other people and wanting to do your best so you don't let the team down."
According to Guzman, this season will mark his last year of playing soccer, as he does not plan to continue on the collegiate level. Students can attend the upcoming varsity games away at Rouse on March 8 and home against Georgetown on March 11.
"Our hopes are to finish strong, win everything we have left, and then hope for the best," Guzman said. "Hopefully we will make playoffs and if not at least just finishing the season on a strong note, making a statement. [Students] should come out and watch, especially the next three or the next two that are home. They're going to be pretty good games, pretty intense, against pretty good teams. Right now we are playing really good, probably playing the best. So they are going to be really exciting games."